politics
Trump Seems to Retreat on Shutdown, But Secret Spending Bill Still Looms
By
President signals he can wait for wall funding until September

GOP members haven't seen spending bill text as deadline nears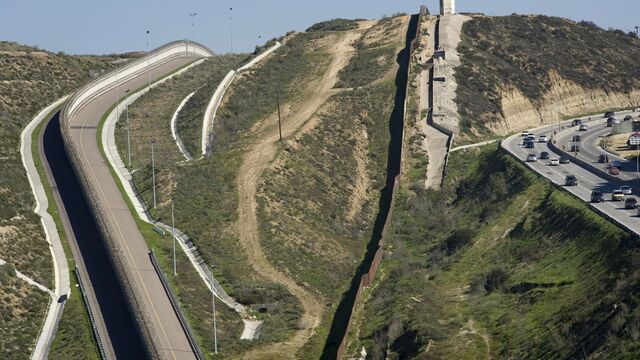 Republicans voiced relief Tuesday that President Donald Trump appears to be retreating from a government shutdown fight by relenting on his demand that Congress immediately start funding a border wall.
But congressional leaders have kept the $1.1 trillion spending measure under wraps, and with only three days until Friday's deadline to pass it, most members of Congress don't know the details, which could complicate its smooth passage.
Republican Representative Dave Brat of Virginia said his constituents don't understand how or why bills are rushed to the floor for a vote in this manner.
"When they ask us in public what you make of the spending bill a week ahead of time and you have to tell them you can't make a full assessment because there is no text, they do not believe it," Brat said Tuesday.
It's not clear when Republican leaders plan to release the text of the spending bill, but Trump's remarks late Monday to conservative media outlets that the wall could be funded later in the year are being seen as a signal that he's ready to sign the measure being negotiated in private by Democratic and Republican appropriators.
"Hopefully we'll reach that agreement sometime in the next few days," Senate Majority Leader Mitch McConnell, a Kentucky Republican, told reporters Tuesday. He refused to say whether lawmakers might need a short-term spending extension to allow more time to pass the larger bill.
Republican leaders offered a new government spending plan behind closed doors Tuesday that doesn't include money for a border wall, said a Senate Democratic aide who spoke on condition of anonymity.
"The fact that the wall is now off the table, Americans can breathe a sigh of relief," Senate Minority Leader Chuck Schumer, a New York Democrat, told reporters Tuesday.
Down to Business
"It's nice that we won't be getting down to that business," Senator Pat Roberts, a Kansas Republican, said Tuesday. "Maybe we can get down to the serious work of government."
White House officials insisted that they will demand Congress pay for the Mexico border wall at some point.
"Building that wall and having it funded remains an important priority to him, but we also know that that can happen later this year and into next year," Trump counselor Kellyanne Conway said on Fox News Tuesday. "In the interim you see other smart technology and other resources and tools being used toward border security."
The No. 2 Senate Democrat, Dick Durbin of Illinois, said Tuesday that Trump is sending "mixed signals" on the wall and negotiators need clarity to wrap up the bill. 
Trump insisted on Tuesday that he hasn't really given in on funding for the wall, writing on Twitter, "Don't let the fake media tell you that I have changed my position on the WALL. It will get built and help stop drugs, human trafficking etc." A day earlier, he told a group of conservatives at the White House that he could put off until September asking Congress to include the money in the federal budget.
Durbin said the final spending deal may include "border security" money "as long as it's clear that it does not go to the wall." He said deal being discussed would provide additional emergency funding for defense, but that Democrats would get several of their priorities, including funding for coal miners' health benefits, extra money for Puerto Rico's troubled Medicaid program and payments under Obamacare to subsidize premiums for lower-income Americans.
Short-Term Bill
The spending plan being negotiated this week would keep agencies running through the Sept. 30 end of the 2017 fiscal year. Congress also can head off a shutdown by passing a short-term spending bill to allow time for more talks.
As of Tuesday morning, leaders hadn't posted a bill or announced a House Rules Committee meeting to set procedures for floor debate and a vote. House Republicans aren't scheduled to meet until Wednesday morning to get details on the measure, and the fiscally conservative House Freedom Caucus also doesn't plan to have a full membership meeting until Wednesday.
"This is ridiculous isn't it? We're four days away from a government shutdown," said Republican Representative Thomas Massie of Kentucky. "My default position is not to vote yes on this bill. I haven't seen it yet." 
Massie said the most important function of Congress is to appropriate money for the functions of government. "We've got one job, and I don't think we take it seriously enough."
Fiscal conservatives regularly bolt on government funding bills, and House Republicans have had to rely on Democratic votes to pass them.
This spending bill fight could have been avoided. In December, Congress was preparing to pass a bipartisan plan to finance the government through the fiscal year, but the incoming Trump administration instructed lawmakers to hold off so it could have a chance to weigh in. Congress, though, ignored the request Trump submitted later for $18 billion in immediate domestic spending cuts as part of the package.
Many Republicans had expected House Speaker Paul Ryan to provide details Saturday during a conference call with rank-and-file members.
Potential Leaks
Instead, three lawmakers said in separate interviews that Ryan told them he didn't want to give details over the phone because he didn't know if any of them might be tape-recording or audio-streaming the call to leak it later. The lawmakers spoke on condition of anonymity.
One member complained that the secrecy is similar to what happened earlier this year when House Republican leaders didn't want most rank-and-file members to see an early draft of an Obamacare repeal measure. That bill ultimately was pulled from the floor for lack of Republican support.
When he became speaker in 2015, Ryan said he would return to the traditional appropriation process, in which Congress funds the government by passing 12 separate spending bills. Some Republicans had criticized his predecessor, John Boehner, for pushing through large spending deals at the last minute, because individual appropriations bills couldn't be completed on time.
"This is the sort of caricature of Congress that we are, we've become, we are the caricature of putting things off to the last minute and then voting on these huge bills with stuff hidden inside of them, hopefully this won't be as bad as some," Massie said.
Massie said there's been no effort from leadership to whip conservative votes for the spending bill, so he thinks they're going to need at least 100 Democrats to vote for it.
— With assistance by Erik Wasson, Anna Edgerton, and Alan Bjerga
(
Updates with McConnell, Schumer quotes starting in sixth paragraph.
)
Before it's here, it's on the Bloomberg Terminal.
LEARN MORE