South Korea Sees Thaad Missile Defense System Ready This Year
By
Moves to install the Thaad missile shield have angered China

South Korea sees intercept system operating by year's end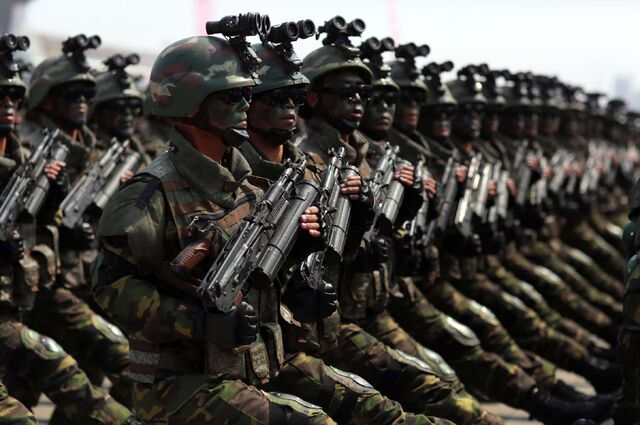 U.S. forces began installing a missile-defense system in South Korea, sparking protests from local residents and complaints from China as tensions mount over North Korea's nuclear program.
South Korea's defense ministry said the Terminal High Altitude Area Defense system, known as Thaad, should be operational by the end of the year. American forces were working with Korea to complete the deployment "as soon as feasible," the U.S. Department of Defense said in an emailed statement.
The introduction of Thaad has angered China, which is concerned it could be used to spy on its own facilities. The anti-missile system has also become a campaign issue ahead of South Korea's May 9 presidential election, with frontrunner Moon Jae-in denouncing the expedited deployment while his closest rival Ahn Cheol-soo said it must take place.
Chinese Foreign Ministry spokesman Geng Shuang told a regular press briefing in Beijing that the country had expressed "serious and justified concerns" to the U.S. and South Korea over the deployment. Geng said China would take measures against the move, which would "disrupt the regional strategic balance and further aggravate tensions on the peninsula."
Read more on why Thaad bothers China

Anxiety is rising as North Korea accelerates ballistic missile tests to gain the ability to deliver a nuclear weapon as far as the U.S., while the Trump administration asserts that it could take military action against Kim Jong Un's regime.
Television footage showed trucks hauling equipment into the site in the southeastern region of Seongju, North Gyeongsang Province, as police in riot gear watched protesters lining the streets. U.S. forces began moving the components into a former golf course around midnight to avoid attracting attention from local citizens, the Yonhap News Agency reported. Korean police mobilized 8,000 officers to control any possible conflict with villagers, who are concerned that the system's powerful radars may affect their health.
'Grave Threat'
The recent missile launches by North Korea highlight the need to deploy Thaad to protect South Koreans and alliance forces, the Pentagon said. "North Korea's unlawful weapons programs represent a clear, grave threat to U.S. national security," it said in the statement.
Kim's regime has the ability to inflict massive damage on South Korean cities with both missiles and artillery. The isolated country carried out its largest-ever artillery firing drill on Tuesday to celebrate the 85th anniversary of the founding of its military, its official Korean Central News Agency said.
Thaad, made by Lockheed Martin Corp., is designed to destroy short- and-medium ranged ballistic missiles at high altitudes in their "terminal" phase, as they descend. China had responded to the decision to install the system by ordering travel agencies to restrict tour packages to South Korea and taking steps against Chinese operations of retailer Lotte Group, which had offered up land that will host Thaad.
Candidates Differ
Moon, a candidate for the left-leaning Democratic Party of Korea, said through a spokesman that Thaad's deployment "should be decided under the new government only after going through sufficient discussions and public agreement and reviewing our interest and alliance with the U.S."
A spokesman for Ahn of the centrist People's Party said the installation should take place lawfully after "careful discussions" with residents.
Both candidates said the defense ministry should have conducted an environmental assessment before allowing the trucks to move in.
South Korean officials have been vague about when Thaad would be up and running. Defense ministry spokesman Moon Sang-gyun told reporters last week that he didn't expect the preparatory process for the deployment to be completed in the short term.
— With assistance by Anthony Capaccio, and Ting Shi
Before it's here, it's on the Bloomberg Terminal.
LEARN MORE