politics
Le Pen on the Attack as Macron Lies Low After First Round
By
Nationalist aims to paint front-runner as out of touch elitist

Macron campaign to get underway with Arras rally Wednesday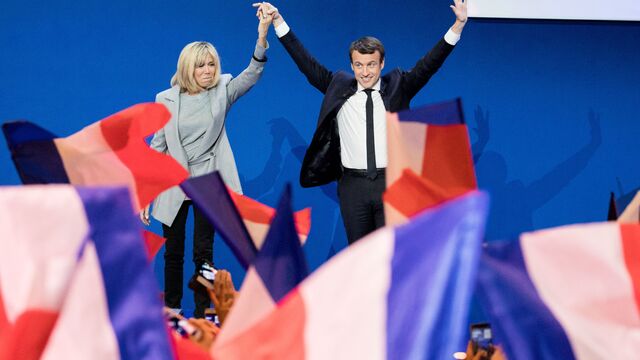 Presidential candidate Marine Le Pen and her lieutenants pounded her rival Emmanuel Macron, as the front-runner in the race for the French presidency remained quiet for a second day.
Thirty-six hours after they took the top spots in the first round of the presidential election and progressed to the May 7 run-off, Le Pen, 48, has been interviewed on one of the main evening news shows and visited Paris's wholesale food market, while 39-year-old Macron has barely been seen. Polls suggest Macron should win the runoff by at least 20 percentage points, the latest one Tuesday from OpinionWay showed Macron would get 61 percent.

"His project is to deregulate everything: labor, trade, borders, immigration," Florian Philippot, vice-president of Le Pen's National Front, said on France Info radio Tuesday. "He'd be in a better position to lecture if he had a good record at the economy ministry, but he destroyed jobs, increased debt, and contributed to the de-industrialization of France."
After years of economic under-performance and a wave of terrorist attacks, the final phase of the French election has become a struggle over two radically different visions of the country's future. For Macron, France should maintain its commitment to the liberal order of free-trade and European engagement, while Le Pen demands barriers to shield workers and markets from international competition.
Macron Endorsements
Macron continued to rack up endorsements from across the political mainstream on Tuesday, with Bruno Le Maire, a candidate in the Republicans' November primary and former adviser to Macron's conservative rival Francois Fillon, offering his support. Le Maire told BFM TV he'll vote for the centrist and would be prepared to join his government.
Fillon and the Socialist candidate Benoit Hamon have both endorsed Macron, as has President Francois Hollande. Communist-backed Jean-Luc Melenchon, who get 19.6 percent in the first round, hasn't said who he'll support in the runoff.
Richard Ferrand, Macron's campaign chief, insisted voters should back Macron on merit rather than because of the advice of other politicians.
"It's up to the French to decide, not this or that leader who has just been rejected," Ferrand said in an interview on France Inter Tuesday.
Macron's only appearance since a tetchy encounter with reporters outside a restaurant in the early hours of Monday was at a remembrance ceremony in Paris for the Armenian genocide Monday where he didn't speak.
"We will not be holding back in this campaign," Ferrand said. Macron will visit a hospital near Paris Tuesday afternoon and he'll hold a rally in the northern city of Arras Wednesday. Le Pen appears on France's most-watched television station Tuesday and then has her own rally in the southern city of Nice Thursday. Both will attend a memorial for the police officer killed in last Thursday's attack on the Champs Elysees in Paris.
Restaurant Gaffe
Le Pen on Monday said she's stepping down as head of the National Front party to be a "free" candidate who could represent "all the French people." In a television interview she said her campaign was about protecting the French, whereas Macron was for "savage globalization, deregulation of labor, and mass immigration."

Macron's critics have tried to ram home the idea that he's an out of touch elitist by attacking him for an acceptance speech Sunday night that appeared better suited for the final victory than preparing for the second round, and for taking his staff to a left-bank brasserie.
"He lacked gravitas, he looked too satisfied with his first round and acted like it's a done deal, when it's not a done deal," Jean-Christophe Cambadelis, head of the Socialist Party who has endorsed Macron, said on RTL Radio. "We need to be careful, she keeps adding to 
her votes. "
Meanwhile, Jean-Marie Le Pen, Marine's father whom she has ejected from the party because of his repeated comments playing down the World War II occupation of France, said she should have run a harder campaign.
"It was too cool," he said on France Inter radio. "I'd have been more aggressive against those of the left and the right who are responsible for the decline of this country."
(
Updates will latest poll in second paragraph, Jean-Marie Le Pen in 14th.
)
Before it's here, it's on the Bloomberg Terminal.
LEARN MORE