Wine
In Slender Cans and 40 Ounces, Fine Wine Gets Ready to Party
The new picnic wines to pack ahead.
By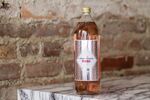 One afternoon, while tasting wine in a cellar in France's Loire Valley, sommelier Patrick Cappiello saw a familiar shape on the shelf in the tasting room—a missile-shaped glass bottle that looked nearly identical to the 40-ounce bottles he'd grown up sipping on outside of Rochester, NY.
It gave him the idea for Forty Ounce Wines. "I thought, let's put this wine into that bottle and sell it in the States where people will recognize and identify with the shape."
The winemaker that was hosting Cappiello, Julien Braud—a youthful fifth-generation vigneron at Domain Fief aux Dames on the western edge of the Loire—was flummoxed: Why would anyone want to put his wine into this bottle, one typically filled with sweet fruit juice and sold at supermarkets in France?
"He said, 'Explain to me why you want to do this,'" says Cappiello, who is the wine director at Rebelle on the Lower East Side and frequently travels to France and Europe to taste new vintages. 

Like anyone in need of cheap, plentiful booze, Cappiello drank forties of malt liquor in his formative years. "I was raised in a lower-middle class neighborhood outside of Rochester, surrounded by skateboarding and hip-hop and punk rock," he says. "Forties were always a big part of that scene."
These unexpected cultural corners use familiar vessels that are more user friendly than traditional wine bottles—no dysfunctional corks, no fragile glass. "The goal with this project is to make wine more approachable," says Cappiello, who enlisted his friend Carolyn Frisch to design the foil labels inspired by Olde English and Mickey's Big Mouth. 
So far two Forty Ounce wines have been released—a 2015 white made from Muscadet and a 2016 rosé blend of Gamay, Merlot, and Cabernet Franc. The white has a pleasant mineralogy and a crisp finish with notes of citrus, oyster brine, and green apple. I would put it up against any Muscadet producer," says Cappiello. 

The only problem is finding a bottle to try. At $16, the wines have created such a stir online and on Instagram that shops sold out of the first allotment of rosé—about 1,800 cases—almost instantly. The 2016 vintage in the Loire suffered through an April frost and poor weather, and quantities were limited. Another 1,800 cases will be arriving stateside in early summer, but for now, keep an eye on Wine Searcher for availability.
Meanwhile, the 2016 Muscadet—a new vintage—will hit shelves the first week of May with a much larger ration of around 6,000 cases distributed nationwide, from New York to Colorado to California. And Cappiello says he's tinkering with the idea of a Forty Ounce red for the fall.
If you can't find a bottle of Forty Ounce Wines for your picnic, here are four other extremely portable, unconventionally packaged fine wines.
Four More Oddball Picnic Wines

Fuoristrada Wines
These Italian wines, packaged in lightweight Tetra Pak cartons, are sourced from organically cultivated grapes. The current red is a 2014 Sangiovese from Tuscany with notes of plum and ripe cherry, while both the white and rosé hail from Sicilian vineyards. They're perfect wines for taking on the road—fuoristrada literally means "off-road" or "astray"—whether for picnics, camping trips, or hiking excursions. About $15 per liter carton. 

From the Tank Boxed Wine
Forget Franzia. From the Tank wines, from cult natural-wine distributors Jenny & Francois Selections, offer a rotating selection of delicious red, white, and rosé wines in a box without all the cloying sweetness. The wines are sourced from a variety of natural producers throughout France, where the tradition of filling a jug from a local vigneron's fermentation tank dates back centuries. Due to their size—the wines come in 3L bag-in-a-box formats, which is the equivalent of four 750ml bottles—they aren't the best option for manual long-distance hauling. But they're an ideal size and quantity for a weekend getaway with friends. About $32 per 3L box. 
Vine planter and nursery fieldman Andrew Jones travels throughout California's Central Coast helping farmers cultivate new vines. Sometimes they offer him small lots of their best fruit on the side from which he makes some of the most exciting single-vineyard wines in the state. Several years ago, he began canning a handful of his wines and now offers nearly half a dozen varieties in 500ml aluminum. They include the 2014 Fiction red blend (Zinfandel, Mourvedre, and a handful of other grapes) as well as the 2015 Book Club Sauvignon Blanc and even a sparkling rosé of Pinot Noir, cheekily named Méthode Aluminum. $10-$15 per 500ml can. 

Ramona Wine Spritzer
These pink grapefruit-spiked wine spritzers from Momofuku's beverage director Jordan Salcito are packed in slim 250 ml cans for "spontaneous and portable" wine drinking wherever you might be. Salcito sources the wine from organic growers in Sicily but grapefruit is by far the dominant flavor. The name is a nod to Beverly Cleary's literary character Ramona Quimby, a mischievous but imaginative little girl. About $20 per 4-pack.
Before it's here, it's on the Bloomberg Terminal.
LEARN MORE