How Superstar Chef Wolfgang Puck Got Back Into the Restaurant Game
His new L.A. restaurant, Rogue Experience, seats 10 people for a 13-course tasting menu.
By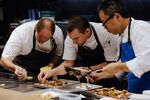 How do you know when you've made it as a chef? When you stroll through the farmers market noshing without getting side-eye from a fruit monger? When you charge containers of berries and tell the produce guy that someone will pick them up later? When you try to pay for $5 of dates with a $100 bill?
When you're Wolfgang Puck, and you oversee a $400 million gustatory empire, you just know. The original celebrity chef's 40-plus-year career is a study in high-low cooking: He slings pizza at Spago and in the frozen-food sections of supermarkets; he feeds Academy Awards attendees and airport travelers; and he paved the way for similarly inclined chefs such as David Chang and Marcus Samuelsson. In other words, Puck can usually delegate a produce run. But at 7:30 on a recent Wednesday morning, he arrives at the Santa Monica Farmers Market eager to find ingredients that would shine at the Rogue Experience, the 10-seat restaurant he was opening in Los Angeles's West Hollywood neighborhood that night.

Since the late 1990s, much of Puck's empire-building has been fueled by mass consumption, which some foodies say has cheapened his brand. But Chang, who grew up watching Puck on television, has choice words for anyone looking at the Rogue Experience as a cynical play to recapture cred. "Wolfgang's been so progressively ahead of the curve for 30-plus years, I wouldn't bet against him," he says. "Does he shill a lot of stuff? Yes. But it's not like he's selling subprime mortgages, for f---'s sake."
It's hard not to see the 67-year-old's latest venture as a play to stay relevant. Rogue's style of cuisine (gastronomic tasting menu), price ($155 per person), and reservation system (the prepaid ticketing system Tock) echo of-the-moment restaurants such as Grant Achatz's Alinea in Chicago and Curtis Stone's Maude in Beverly Hills. When I ask Puck, in front of a stand of snap peas, what he thinks of those places, he shrugs and pops a pod in his mouth. "Tasting menus, the Japanese have done it forever," he says, mentioning the long-standing version at Spago. "We just have to do it our way."
Rogue's narrow dining room and open kitchen, carved out of Wolfgang Puck Worldwide Inc.'s Melrose Avenue headquarters, serves as a lab for chefs at Puck's various ventures, including Spago (California fusion) and Cut (steakhouse), which have locations beyond L.A. The chefs do most of the cooking, while Puck acts as sensei. "The only thing I told them is you cannot cook what you do at the restaurant," he says. "It would be useless."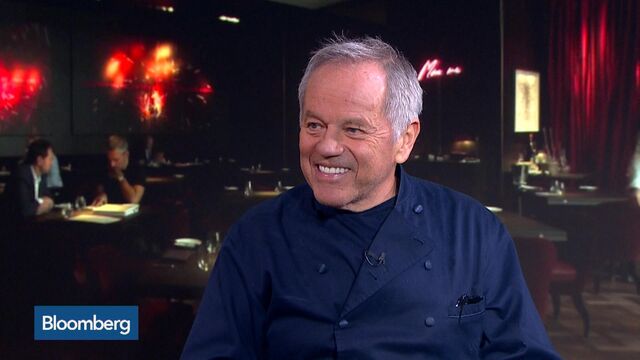 To determine the 13-course menu served on Rogue's opening night, the chefs thumbed through one of Puck's early cookbooks—published in 1986—to random pages and updated the dishes they landed on. Eric Klein, vice president for Wolfgang Puck Catering, turned a radicchio-and-goat-cheese salad into fried radicchio chips dotted with goat-cheese mousse and bright orange nasturtium petals. Most of the food is fancy but unstuffy: There's a mini "chili dog" with mapo seasoning (fermented black beans and spices).
In the rush before the guests show up, Puck approves dishes and asks periodically if everyone is OK. The answer is always: "Yes, chef!" When Rogue's diners arrive, Puck morphs into the host with the most, greeting Spago regulars with a cheer and posing for photos in the restaurant's lounge. After his fans have savored radicchio-chip canapés and blood-orange French 75 cocktails made in a rotary evaporator, Puck leads them into the dining room, which features a dramatic view of the kitchen, and gestures to the chefs, one an alumnus of Alinea, another from New York's Le Bernardin. "I know this sounds silly, financially," he says. "It's one to one, basically, the ratio" of staff to guests. "But not everything is about money."
Before it's here, it's on the Bloomberg Terminal.
LEARN MORE