Netanyahu Cancels on German Official Over Protest Groups
By and
Israeli leader says meet with NGOs or meet with me, not both

Breaking the Silence, B'Tselem say army violates human rights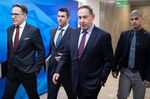 Israeli Prime Minister Benjamin Netanyahu canceled a meeting with Germany's visiting foreign minister, who insisted on talking with Israeli citizen groups that accuse the army of violating Palestinian human rights.
Netanyahu called off the meeting after Sigmar Gabriel refused to skip a discussion with Breaking the Silence and B'Tselem. A meeting with Israeli President Reuven Rivlin went ahead as planned.
"Prime Minister Netanyahu will not meet with those who lend legitimacy to organizations that call for the criminalization of Israeli soldiers," his office said in a statement released Thursday afternoon.
The spat reflects growing domestic tensions over the behavior of citizen groups opposed to the current Israeli government. Netanyahu says the groups seek to generate international pressure on Israel to adopt policies that voters have rejected at the ballot box. 
Foreign Funding
Gabriel, who was in Israel to participate in Holocaust memorial day activities Monday, said it was "not a catastrophe" to miss the meeting with Netanyahu and the issue wouldn't affect bilateral relations.
"It surprised me that the visit was canceled," he told reporters Tuesday, describing meetings with civil society groups as "quite usual" parts of his diplomatic visits. "I think we mustn't become part of the domestic policy game in Israel."
Breaking the Silence, which collects anonymous testimony from Israeli soldiers about human-rights violations they say they witnessed during military service, receives much of its funding from European governments. In February, Israel reprimanded Belgium's ambassador after the country's prime minister met with Breaking the Silence on a trip to Israel, a day after Netanyahu had urged him to stop funding the group. 
B'Tselem publicizes alleged human-rights abuses of Palestinians by soldiers and settlers. The group sparked an uproar in Israel last October after its leader addressed the United Nations Security Council and urged the body to take action against Jewish settlements in the West Bank.
Maintaining silence
A spokesman for Breaking the Silence declined to comment. B'Tselem did not respond to requests for comment.
"Imagine if foreign diplomats visiting the United States or Britain met with NGOs that call American or British soldiers war criminals," Netanyahu's office said in the statement. "Leaders of those countries would surely not accept this."
Rivlin, who met Gabriel Tuesday afternoon, told him Israel is used to being criticized but the criticism "needed to be based in reality."
"Our army is the most moral army in the world," Rivlin said, according to a release from the president's office. "We know how to maintain our army as the most moral in the world, and we will continue to do so."
— With assistance by Tony Czuczka, and Rainer Buergin
Before it's here, it's on the Bloomberg Terminal.
LEARN MORE