China Doubts U.S. Climate Pledge as Trump Mulls Paris Exit
By
Staying in Paris pact ensures cycle of shame, critics argue

White House debates remaining a part of global climate deal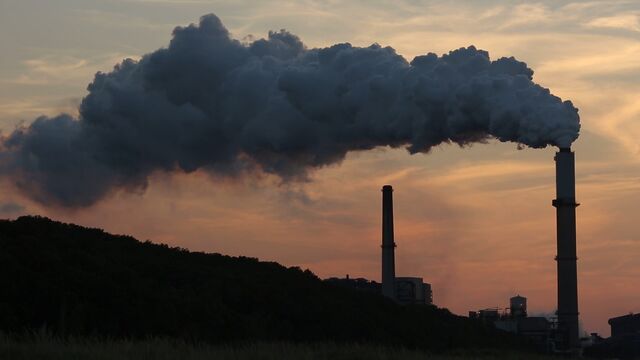 China, the world's top emitter of carbon dioxide, is questioning whether the U.S. is doing enough under President Donald Trump to meet commitments made as part of the landmark Paris climate accord.
China joined the U.K., Brazil and other countries in scrutinizing U.S. climate progress in queries filed with the United Nations. The responses illustrate the potential global humiliation -- if not outright retaliation -- the U.S. could incur if Trump decides to keep the country in the pact even as he eviscerates policies central to keeping its carbon-cutting commitment.
Top Trump administration officials are still debating whether the U.S. should formally remain a party to the pact signed in 2015, with environmental chief Scott Pruitt and top strategist Steve Bannon pushing for a pullout while White House adviser Jared Kushner and Secretary of State Rex Tillerson advocate sticking with the deal.
Energy Secretary Rick Perry says he won't advise Trump "to walk away from the Paris accord." Instead, he said at the Bloomberg New Energy Finance conference Tuesday, "I think we probably need to renegotiate it."
A decision is expected in the coming weeks, but former climate negotiators -- and a pro-Paris contingent in the White House -- say that the stay-in-but-don't-comply option is better than pulling out altogether, even if it draws complaints from other signatories.
"Weakening the target certainly isn't in keeping with the spirit of the Paris agreement, but pulling out would be a direct assault on that agreement," said Elliot Diringer, who represented the U.S. in other climate change negotiations under former President Bill Clinton and is now executive vice president of the Center for Climate and Energy Solutions. 
Climate Change Pact That Made History Now Faces Trump: QuickTake
The Paris accord, signed by more than 190 countries, is one of former President Barack Obama's signature achievements on climate change. He personally lobbied a reluctant China to sign, paving the way for other nations to follow, and put in place an array of regulations and policies to help the U.S. to meet its commitment under the pact.
Since taking office, Trump has reversed or discarded many of those measures. He prodded the Environmental Protection Agency to dismantle the Clean Power Plan that slashed carbon dioxide emissions from generating electricity and repealed his predecessor's broad strategy for paring oilfield releases of methane, another potent greenhouse gas.
Those changes prompted pointed responses to a U.S. report on its climate progress, filed with the United Nations by the Obama administration. Countries filed questions in February; they were released last week.
For instance, China invoked Trump by name as it noted that the U.S. can't cut greenhouse gas emissions 17 percent below 2005 levels by 2020 -- much less hit its 26 percent target for 2025 -- if the U.S. doesn't preserve Obama-era policies and take additional steps building on them.
Read more: China's Greenhouse Gases Fall Again Despite Economic Growth
"Given that President Trump is not supportive of President Obama's climate action plan, it is even more challenging to achieve the 17 percent emission reduction in 2020 purely through domestic actions," China said. "What additional measure will the U.S. consider?"
China also wanted to know what the U.S. was doing to curb greenhouse gas emissions from electric plants in case the Clean Power Plan is canceled and asked for an assessment of the climate impacts of Trump's recent policy announcements.
The queries from China come as that country drives down its emissions by aggressively supporting renewable energy and turning to natural gas instead of coal to generate electricity.
Obama helped recruit China to join the Paris climate agreement after the failed effort to broker a climate deal in Copenhagen in 2009. He saw China as the key to attracting international support for the pact because China and the U.S. are the world's two biggest polluters, accounting for some two-fifths of greenhouse gas emissions.
Prior story: China's Move with U.S. on Pollution Spurs Climate Agreement
In the run up to Paris, Obama and Chinese President Xi Jinping announced ambitious goals to curb greenhouse gases. China pledged its emissions would peak around 2030, the first time it agreed to such a cap, and the U.S. agreed to double the pace of its greenhouse gas cuts.
The Paris accord is not legally binding. Although countries may face international ridicule for failing to live up to individual carbon-cutting pledges, they do not face sanctions under the pact. The U.S. has the freedom to rewrite its commitment or just openly flout it by obliterating the Obama-era policies designed to help meet its goals -- an argument advanced by White House officials who back the pact. 
Supporters argue that remaining in the deal would maintain goodwill with international trading partners, facilitating exports of U.S. natural gas or clean-energy technology. Even skeptics of climate change say that by remaining part of the deal the U.S. can advocate American technology for producing power from coal with lower emissions.
"The United States should never shirk its global responsibilities -- we should just participate under our conditions and not everybody else's," Representative Kevin Cramer, a North Dakota Republican with close ties to Trump, said in an interview. "Why shouldn't the United States -- we've always been the innovators and the problem solvers -- be there offering up our solutions?"
How Trump Climate Denial May Catalyze the World: QuickTake Q&A
The U.S. still could face some reprisals for a stay-in-but-don't-comply stance, analysts and some pro-Paris business groups argue, but the risk of such repercussions is higher with a complete retreat. 
"Given the importance of U.S. leadership to the Paris agreement, we think supporters might prefer to accommodate U.S. flexibility," ClearView Energy Partners told clients in a research note.
A U.S. withdrawal could make it harder for other countries to justify their continued participation and undermine the global nature of the accord, said Dan Bodansky, an expert in international environmental agreements at Arizona State University. "If we move out, we're really an international pariah for abandoning this agreement that was just adopted by the entire international community a year-and-a-half ago," he said.
By contrast, the biggest risk of the U.S. taking the middle-ground option is that other countries stop aggressively working to pare emissions, Diringer said. 
"There's a potential corrosive effect on global ambition," he said. "If the world's largest economy isn't trying as hard, others may be less willing to make the effort."
Accord's Risks
Conservatives arguing in favor of a U.S. pullout from Paris say the risks are too great to remain. Under the accord, countries are expected to strengthen their individual goals every five years, and the agreement prods developed countries to "lead," undertaking the "highest possible ambition." Member nations are set to gather again next year to take stock of their collective progress.
"This whole idea of being binding or non-binding is a distinction without a difference," said Marlo Lewis, a senior fellow at the Competitive Enterprise Institute. "Trump and whoever comes after Trump will continually be caught in this no man's land where if you don't do what Obama promised, you are breaking a promise that America, allegedly, has made to the world."
Since Trump is already rolling back domestic climate regulations, "why not go all the way?" Lewis asked. "Why affirm the legitimacy of an agreement -- and why pledge fealty to an agreement -- that basically indicts you for doing what you are going to do?"
Remaining a party to the deal while flouting the U.S. commitment "would turn the United States into a professional liar and hypocrite," said Mike McKenna, a strategist advising energy companies. "If we're not going to participate in honest action, the right answer is, get out. It is weaselly and beneath our national honor to do something like this."
— With assistance by Alex Morales, and Joe Ryan
Before it's here, it's on the Bloomberg Terminal.
LEARN MORE