business
Brexit Bulletin: The EU Plays Even Harder Ball
While Britain gets into election mode, the EU's negotiating position is getting tougher.
By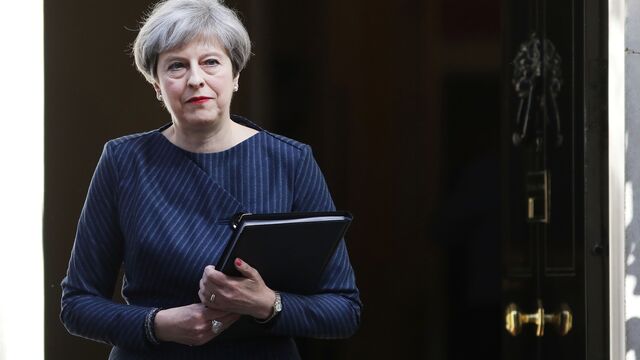 Sign up to receive the Brexit Bulletin in your inbox, and follow @Brexit on Twitter.
For the second time in a week, European Union governments have toughened their Brexit negotiating stance.
In a sign they plan to play hardball in upcoming talks, officials meeting in Brussels on Monday added limits on banks and explicit demands on citizens' residency rights to their plan, according to Bloomberg's Dalius Simenas and Ian Wishart.

U.K. Prime Minister Theresa May hopes for a sweeping post-Brexit trade deal that will include banks, but the diplomats approved French requests to ring-fence financial services and to include the sector in a deal only if Britain accepts EU rules.
The draft, to be discussed at further talks on Thursday and then at a weekend summit of leaders, was also revised to propose citizens enjoy the "right to acquire permanent residence after a continuous period of five years." It also said Britain's exit bill must take into account its "whole period" of membership.
The document was being drawn up as the EU's top agriculture official, Phil Hogan, said he senses that the U.K. is moving away from some of the "crazier ideas" around leaving as "the worst of the Brexit triumphalism appears to have abated."
Brexit Britain
With June's snap election in mind, May's Conservative Party is concentrating its resources on pro-Brexit constituencies. Of the 60 districts that are most winnable from the main opposition Labour Party, two-thirds voted to leave the EU, according to Bloomberg's Eddie Buckle.
May's early campaigning reflects that strategy, with visits so far to target constituencies thgat voted heavily for Brexit and where the Tories need a swing in voting of less than 6 percent.

In some places though, the Conservatives will be on the defensive. The pro-EU Liberal Democrats are seeking to recapture six constituencies they lost to the Tories in 2015 and which voted "Remain" in 2016. The Lib Dems need a swing of six points or less to take them back.

On the campaign trail, Labour is pledging to tear up May's Brexit strategy if it wins the election and instead focus on keeping the benefits of the EU's single market and customs union. In a speech today, its Brexit spokesman, Keir Starmer, will also pledge to safeguard environmental and workplace protections.
Elsewhere, on Monday the Lib Dems increased their membership to the highest in two decades. Pro-EU group Open Britain has drawn up an "attack list" of 20 seats held mostly by pro-Brexit Tory MPs whose constituents voted to stay in the EU. And May hired Jim Messina, who worked as deputy chief of staff to former U.S. President Barack Obama, for her campaign. 
The University of Kent's Matthew Goodwin said polls to date suggest the Tories will win 46.6 percent of the vote nationwide, the highest since 1959. A YouGov poll said they are set to win in Wales for the first time in a century, while a poll by Kantar suggested Scots still don't want independence.
Swiss-Style?
In a new report, John Springford of the Centre for European Reform argued "Britain's best hope" is to secure a Swiss-style trade deal focused on goods. That would represent the most the EU would be willing to offer without insisting on the supremacy of European courts and freedom of labor movement that May wants to avoid, he says.
The cost to the U.K. of such a deal would still be significant, according to Springford. It would suffer labor shortages and weaker economic growth and the financial industry would lose a "sizable chunk of activity" because it wouldn't be accommodated in the deal.
"A Swiss-style deal would be a middle way between 'no deal' chaos and single market membership," he said.
Brexit Bullets
The U.K. needs a system "closely resembling" EU-style free movement to remain a world leader in higher education, a cross-party panel of lawmakers said. May is refusing proposals to remove students from immigration data, the Financial Times says
The U.K. is taking steps to deter applications for residency to avoid a deluge, the FT says
Lobby group TheCityUK estimates each worker in and around the financial services industry adds an average of £79,500 ($102,000) to the economy, more than 1.5 times the average
Britain will have to settle a €2 billion ($2.17 billion) charge from the EU over customs fraud, the Times reports
Fifty nine percent of small businesses with EU workers are worried about finding skilled people after Brexit, Federation of Small Businesses says
An Irish judge scheduled a hearing for May 31 on whether Article 50 can be revoked
The International Emissions Trading Association sees "many risks" to U.K. and European businesses if Britain leaves EU emissions trading system
On the Markets
The Brexit-fueled drop in the pound is luring back European investors who shunned London's commercial property in the run-up to the Brexit referendum. 
Investors from Europe put £1.7 billion ($2.2 billion) into the capital's offices, shops and warehouses this year through April 18, accounting for 31 percent of the market, according to Savills. That's up from £824 million and 14 percent in the same period of 2016.
Meantime, the U.K. economy is getting pulled in two directions by the pound's slide.

The latest monthly Confederation of British Industry report showed weaker sterling is giving a big boost to exporters, with factory orders rising at a pace not seen since 1995. That came hours after a Deloitte survey showed how accelerating inflation – also currency related – is squeezing consumers and eating into their disposable incomes.
And Finally...
A group of prominent academics and tech executives fear that the U.K.'s exit from the EU could jeopardize the U.K.'s lead in the development of machine learning.
British researchers have played a critical role in advances in machine learning – a kind of artificial intelligence in which software learns from experience or data. But the country faces a "substantial skill shortage in this area," The Royal Society, one of the world's oldest and best-known scientific organizations, said in a report on published on Tuesday.
"As it considers its future approach to immigration policy, the U.K. must ensure that research and innovation systems continue to be able to access the skills they need," the report said.
For more on Brexit follow Bloomberg on Twitter, Facebook and Instagram, and see our full coverage at Bloomberg.com
Before it's here, it's on the Bloomberg Terminal.
LEARN MORE