Macri Aims to Leverage Trump Bond in White House Visit
By
Argentine president to meet with Trump in Washington this week

Macri and Trump have known each other for three decades
As Mauricio Macri prepares to travel to Washington to meet Donald Trump, he may be hoping the U.S. president won't begrudge having been described by his Argentine counterpart as "crazy."
Macri will steal a march on regional rivals Mexico and Brazil by paying an official visit to Trump this week as the two former businessmen seek to rekindle a relationship that goes back three decades, but which hit the rocks before the U.S. election when the Argentine leader openly backed Hillary Clinton. Peruvian President Pedro Pablo Kuczynski met Trump in February after requesting a meeting as part of a previously planned trip to Washington.

Macri will be looking to put that diplomatic indiscretion behind him as he attempts to leverage his past relationship with Trump to help open up access for Argentine products in the U.S. market, even as the U.S. leader threatens to re-write the North Atlantic Free Trade Agreement with Mexico. As relations between the U.S. and other Latin American countries are put on hold, Macri is in a unique position use the friendship with Trump to Argentina's advantage.
In meeting with Macri on Thursday, Trump is eschewing a tradition in which an incoming U.S. president meets first with Mexico, its largest trade partner in the region, and with Brazil, Latin America's largest economy. Mexican President Enrique Pena Nieto canceled a trip to the White House planned for February amid tension over NAFTA, while Brazil's Michel Temer is too busy trying to defuse a corruption scandal amid an economic crisis
"In the vacuum left by Mexico and Brazil you get Argentina just as it's showing signs that its economy is recovering and has given signals of its desire to reestablish relations with the U.S.," said Federico Merke, a professor in international relations at the University of San Andres in Buenos Aires. For Trump, "Argentina is a focal point in the region. Macri is someone he can talk to reasonably."
Read more about Macri's efforts to revive Argentina's economy: QuickTake

Macri will meet with Trump at about 11 a.m. in the White House. In the afternoon he is scheduled to hold meetings with Senate Majority Leader Mitch McConnell and with House Speaker Paul Ryan before attending an event with the U.S. Chamber of Commerce.
Macri will be aided by the fact that the U.S. had a trade surplus of $2.5 billion with Argentina last year, according to Argentine Agency for Investment and International Trade. That should take the edge off Trump's "America First" policy. U.S. companies have pledged to invest $7.6 billion in Argentina since Macri took office in December 2015, according to the Argentine investment agency.
Still, talks won't be easy. One of Trump's first actions on taking office in January was to suspend the implementation of a recently-negotiated rule allowing for the import of Argentine lemons.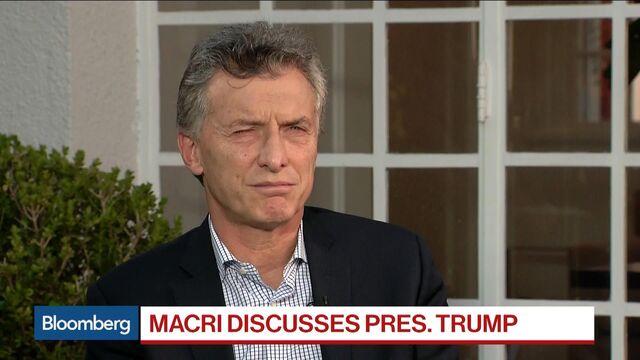 The U.S. Commerce Department this month also began a probe for alleged dumping in the U.S. market by Argentine biodiesel producers. U.S. biodiesel producers want Trump's government to impose tariffs of 23.3 percent on Argentine imports, which rose by 196 percent to $1.1 billion last year. Argentina's Chamber for Biofuels has denied accusations of dumping.
The Argentine government is treating the first encounter as an opportunity to get to know Trump's team and Macri is unlikely to broach the topics of lemons or biodiesel, while making clear his views on globalization and free trade, said a cabinet official, who asked not to be indentified.
Way Back
Macri's relationship with Trump dates back to the 1980s when as a 24-year-old the Argentine president was sent by his construction magnate father to negotiate a real estate agreement with Trump. While the deal never happened, the two men have maintained contact over the years, playing the occasional game of golf. When visiting Argentina, Trump stayed at Macri's home.
In a television interview in 2015, Macri described Trump as a "show off" and "totally crazy." Asked if he could imagine a scenario in which the two would meet as presidents of their countries, Macri dismissed Trump's chances of winning the presidency, saying his views were too extreme.
Still, points of friction between Argentina and the U.S. are insignificant compared to the tension faced by other countries in the region. Trump has threatened to tear up Nafta and this week pressed ahead with his campaign pledge to build a wall along the Mexican border.
Macri will stay at the president's guest house, Blair House, and lunch in the Cabinet Room, giving his trip some elements of a state visit, Macri's cabinet official said. While there, his long relationship with Trump will put Macri in a position to soften Trump's protectionist stance, said Kellie Meiman Hock, a managing partner at trade strategists McLarty Associates.
Trump is "a president that values personal relationships so in that regard it's significant that President Trump does have a previous relationship with President Macri," Meiman Hock said by phone from Salt Lake City. "The orientation of Trump is clear. A 180 in that regard is not in the offing, but I do think he's a man that listens, particularly to people with whom he has good relations."
(
Adds U.S. company investment pledges in seventh paragraph.
)
Before it's here, it's on the Bloomberg Terminal.
LEARN MORE