Risk On as French Vote Ripples Around the World: Markets Wrap
by
U.S. stocks follow Europe higher, havens and volatility fall

Investors bet on Macron victory after first round of voting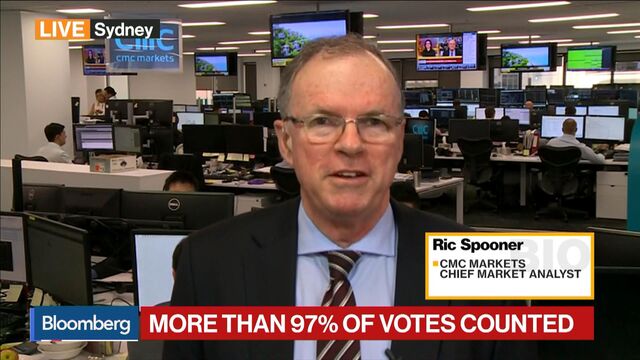 Relief spread through the global financial markets Monday after France's election left a centrist on track for the presidency, easing concerns that the country will leave the euro currency bloc. U.S. stocks rose while Treasuries and gold fell and volatility gauges plunged.
European shares surged to a 17-month high after Emmanuel Macron advanced as favorite in runoff over nationalist Marine Le Pen. The euro scaled back gains after its best open on record. The yen was the worst performer among major currencies.

The results of the weekend vote put Macron, a committed globalist, in position to win the second round on May 7 over Le Pen, who wants to take France out of the euro and clamp down on immigration. A snap Ipsos survey late on Sunday suggested he'd win by 62 percent to 38 percent for Le Pen.
"Macron will not only help stabilize the European Union, but also help build stronger support mechanisms," Azad Zangana, senior economist for Europe at Schroders Plc in London, wrote in a note to clients. "The contest is not over yet, but investors are likely to take comfort and to begin to think about the more attractive valuations that European equities offer."
Read analysis from Bloomberg's macro strategist here: Enjoy the party, markets, but beware of the hangover.
Read our Markets Live blog here:
What investors are watching beyond the elections:
U.S. President Donald Trump will announce a tax reform plan on April 26. Meanwhile, a U.S. government shutdown is possible on April 29 if Congress doesn't approve a spending bill to fund the government.
The spotlight returns to North Korea on Tuesday, as the world waits to see if Kim Jong Un marks the 85th anniversary of the Korean People's Army with another provocation.
The earnings season is in full swing. Alphabet Inc., Microsoft Corp., Amazon.com Inc., Twitter Inc., Intel Corp., Credit Suisse Group AG, Barclays Plc, Bayer AG, Daimler AG and Total SA are among many major companies releasing results this week.
The European Central Bank sets monetary policy Thursday. With officials indicating little chance of a policy change, the focus will be on any signals from President Mario Draghi that the ECB is starting to discuss an exit from its extraordinary stimulus.
U.S. GDP is due at the end of the week. It's projected to show that the economy expanded at a 1.5 percent annualized rate in the first quarter, the weakest pace in nearly a year.
Here are the main market moves:
Stocks
The S&P 500 Index ended up 1.1 percent to 2,374.07, within 1 percent of its all-time closing high. The Dow Jones Industrial Average rose 1.1 percent 20,764.54.
The Stoxx Europe 600 Index jumped two percent to the highest since December 2015. France's CAC 40 soared 4.1 percent, while Germany's DAX climbed 3.4 percent and the U.K.'s FTSE 100 increased 2.1 percent. 
A gauge of European stock volatility plunged 35 percent, while the VIX fell more than 25 percent.
Akzo Nobel NV's ADRs gained 6 percent to $29.73, their highest level since April 2008, after PPG Industries Inc. sweetened its $28.8 billion unsolicited takeover offer for the Dutch paint maker.
Currencies
The Bloomberg Dollar Spot Index slipped 0.5 percent, paring earlier losses.
The euro climbed 1.27 percent to $1.0865. It soared as much as 2 percent earlier. Other European currencies also rallied, with the Swedish krona and the Norwegian krone each increasing at least 1.3 percent. The yen fell 0.58 percent to 109.73 per dollar.
Bonds
Yields on 10-year Treasuries rose two basis points to 2.27 percent.
The yield on French 10-year notes dropped 10 basis points to 0.83 percent. Portuguese, Spanish and Italian bonds also rallied.
German benchmark yields climbed eight basis points and those in the U.K. added two basis points.
Commodities
Gold slipped 0.6 percent to $1,276.19 an ounce.
Oil fell 0.8 percent to $49.22 a barrel. An OPEC-led committee was said to back prolonging supply cuts.
Asia
The Shanghai Composite tumbled 1.4 percent, the most this year, as a selloff in Chinese stocks deepened amid growing concern that authorities will accelerate measures to crack down on leveraged trading.
Japan's Topix increased 1 percent, after its first weekly advance in more than a month. 
Before it's here, it's on the Bloomberg Terminal.
LEARN MORE