Erdogan-Inspired Incentives Seen Boosting Turkish Bank Profits
By
Lenders set to benefit from measures aimed at spurring economy

Deutsche Bank predicts 46% surge in first-quarter profits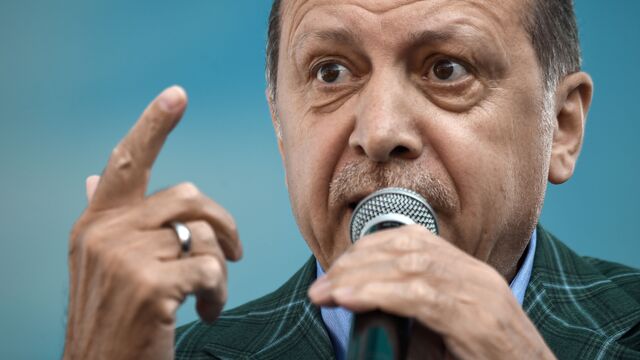 Politics is proving to be a boon for Turkey's banks that may continue for months to come.
First-quarter profit at Turkey's six largest banks, which will start reporting this week, is expected to jump by an average of 46 percent from a year earlier, according to Deutsche Bank AG. Lenders are benefiting from a raft of incentives brought in by President Recep Tayyip Erdogan's administration that has led to a surge in lending, boosting the revenue the companies make from charging interest.
After this month's narrow referendum victory, Erdogan is shifting his attention to general and presidential elections scheduled for November 2019 by trying to reignite an economy that has flagged in the wake of last July's failed coup. Lenders have been among the biggest benefactors with tax breaks, looser banking regulations and a state-backed fund to encourage lending to businesses.

"The government will continue measures to stimulate growth through banks as it pays back quicker than incentives given to industrial companies," said Deutsche Bank analyst Kazim Andac. "Lira-denominated business loans, mainly through the Credit Guarantee Fund, were one of the major drivers of top-line strength in the first quarter."
Growth Catalyst
Cagdas Dogan, a banking analyst at BGC Partners Inc. in Istanbul, revised higher his first-quarter profit estimates, mainly because of stronger-than-expected growth in lira-denominated loans, better returns from investments in inflation-linked bonds and risk-related costs that were lower than his initial estimates.
"Our revised first-quarter earnings are around 10 percent higher than our original forecasts done after 2016 results," he said. Dogan expects an average increase of 47 percent in net income for the six biggest publicly-traded lenders in the first quarter compared with the year-earlier period.
The nation's credit boom will add as much as 1.5 percentage points to gross domestic product growth this year, Erdogan's adviser Cemil Ertem said on Thursday. He criticized the International Monetary Fund's 2017 growth estimate of 2.5 percent, predicting GDP will expand as much as 4.5 percent. He said that the Credit Guarantee Fund will be a catalyst for growth in 2018.
"We're still on an election path, therefore the government will continue with incentives through 2018 and until the 2019 elections, which will be bank-positive," said Bulent Sengonul, a banking analyst at Is Yatirim Menkul Degerler AS in Istanbul. 
Bad Debts
The push to extend lending, sometimes at below market rates, doesn't come without risks. Non-performing loans will increase to 5 percent of total credit this year, from 3.3 percent, S&P Global Ratings said in report in February. 
Still, banks will remain resilient should the economy weaken because their "adequate asset quality, sufficient earnings, and good capitalization provide enough of a buffer to absorb any potential moderate volatility without damaging their financial profiles unduly," S&P said.
Annual loan growth quickened to 21.2 percent at the end of March, matching levels achieved in January that marked the quickest pace in 14 months, according to the banking regulator, known as the BDDK.
Banks have extended 137.3 billion liras ($37.7 billion) of loans to 186,131 businesses under the Credit Guarantee Fund program as of April 20, the Ankara-based fund said in an emailed response to questions. The government previously said that fund, known as KGF, will be able to back as much as 250 billion liras of loans.
Akbank TAS will be first to report earnings on April 25, followed by Garanti Bankasi AS a day later, and Yapi Kredi Bankasi AS on April 27. The country's remaining lenders are expected to announce earnings by the end of the second week of May.
— With assistance by Tugce Ozsoy
Before it's here, it's on the Bloomberg Terminal.
LEARN MORE