politics
Mnuchin Says Faster Growth Will Offset Cost of Tax Overhaul
By and
'We're looking at reforms that will pay for themselves'

Trump says administration will unveil the plan on Wednesday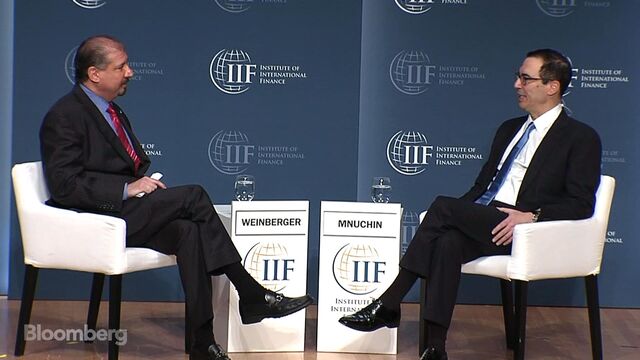 The Trump administration's tax proposal may inflict a short-term hit to revenue but will cover the gap by boosting economic growth over the next decade, Treasury Secretary Steven Mnuchin said.
U.S. President Donald Trump has promised "massive" tax cuts for corporations and individuals in a bid to stimulate the economy in what administration officials say will be the biggest overhaul since the 1980s. To finance the plan, Mnuchin is counting on the compounding effect of economic growth over the next decade, though the prospect of a revenue shortfall in the near term may prove thorny for some lawmakers.
"The difference of a little over 1 percent of GDP over a 10-year period of time can generate as much as $2 trillion of revenue in the U.S.," he said at an event Saturday in Washington when IMF Managing Director Christine Lagarde asked if he was looking at cost-neutral options. "There's no question: We're looking at reforms that will pay for themselves with growth."
The Treasury Department is analyzing static scoring, which looks at changes of policies based on the assumption of no growth impact, and dynamic scoring, where growth assumptions are included. "Under dynamic scoring, this will pay for itself. Under static scoring, there will be short-term issues," Mnuchin said.
Read More: Trump Plan Said Unlikely to Back Border-Adjusted Tax
Administration officials for months have been meeting with business and Wall Street executives as well as lawmakers to craft the plan, though they have provided limited details. Trump said Friday he will unveil his proposal on Wednesday, news that caught Treasury officials by surprise and stirred speculation about how thorough the proposal will be.
Obstacles to winning congressional approval of a sweeping tax-code rewrite loom large. The president last month failed to convince his own party to repeal and replace the 2010 Affordable Care Act, while Republicans and businesses are divided about House Speaker Paul Ryan's border-adjustment tax proposal. The plan, which would boost revenue by taxing companies' domestic sales and imports, will be left out of Trump's proposal, a senior administration official said.
See here: Mnuchin's talk of tax plan 'soon' stirs markets and skeptics
Mnuchin said Thursday the reform will be completed and signed by the president before the end of the year. While he didn't provide many more details on Saturday, he made one thing clear: The administration wants to simplify things.
"The tax code is just way, way, way too complicated. We want to create a system where the average American can do their taxes on a postcard, not a major book," Mnuchin said, joking that it would have to be a big postcard.
Before it's here, it's on the Bloomberg Terminal.
LEARN MORE