Trump Says Paris Attack Will Probably Help Le Pen in French Election
By
U.S. president tweets as French voters go to polls Sunday

'People of France will not take much more of this,' Trump says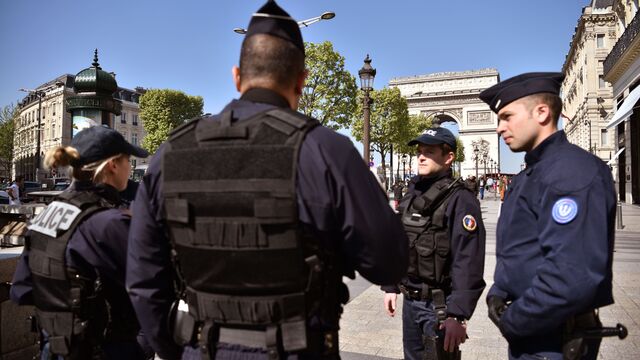 U.S. President Donald Trump predicted the attack in Paris in which a police officer was killed on the Champs-Élysée "will have a big effect" on the French presidential election, bolstering far-right candidate Marine Le Pen.
"Another terrorist attack in Paris," Trump said on Twitter on Friday morning. "The people of France will not take much more of this. Will have a big effect on presidential election!"
While Trump didn't mention Le Pen by name in the tweet, he did in an interview later in the day with the Associated Press. Trump said the attack on Thursday will "probably help" Le Pen because she is "strongest on borders and she's the strongest on what's been going on in France."
Trump added that his comments weren't meant as an explicit endorsement of Le Pen in the first round of voting Sunday in the French presidential election. He said he isn't worried about emboldening terrorists by predicting a political impact.
France's election is the most open in nearly half a century. Polling shows Emmanuel Macron, a former economy minister whom rivals have sought to paint as weak on security issues, leading a crowded field. Le Pen, who has made terrorism and immigration key issues in her campaign, and Francois Fillon, a conservative former prime minister, are close behind, as is Communist-backed Jean-Luc Melenchon.
Campaigning Halted
Most of the major candidates canceled campaign events scheduled for Friday after the shooting Thursday, which also wounded two other officers and a bystander and which the government was treating as a terrorist attack. Islamic State claimed responsibility for the attack.
After the shooting, Le Pen reiterated her calls for border controls and a crackdown on radical Islam -- platform issues that have drawn comparisons to Trump's campaign. She said in a CNN interview after the U.S. election in November that Trump's unexpected win could boost her own chances.
"Donald Trump has made possible what was presented as completely impossible," Le Pen said then. "So it's a sign of hope for those who cannot bear wild globalization. They cannot bear the political life led by the elites."

Macron said after Thursday's attack that Le Pen's plans were "nonsense" and that he'd improve intelligence with a centralized anti-terror force. Fillon said he wanted greater cooperation with Russia and Iran. Melenchon said he wouldn't cede to "panic" and would continue with his plans for the day.
Macron spoke to former U.S. President Barack Obama by phone on Thursday. Obama isn't making any formal endorsement ahead of Sunday's vote, spokesman Kevin Lewis said in a statement.
But, Lewis said, Obama "appreciated the opportunity to hear from Mr. Macron about his campaign and the important upcoming presidential election in France, a country that President Obama remains deeply committed to as a close ally of the United States, and as a leader on behalf of liberal values in Europe and around the world."
— With assistance by Gregory Viscusi, Helene Fouquet, and Mark Deen
Before it's here, it's on the Bloomberg Terminal.
LEARN MORE