Trump Makes Paperwork, Not Jobs, in 'Economic Nationalism' Push
By , , and
The president orders studies on trade and foreign labor

Legislation to meet campaign promises has been elusive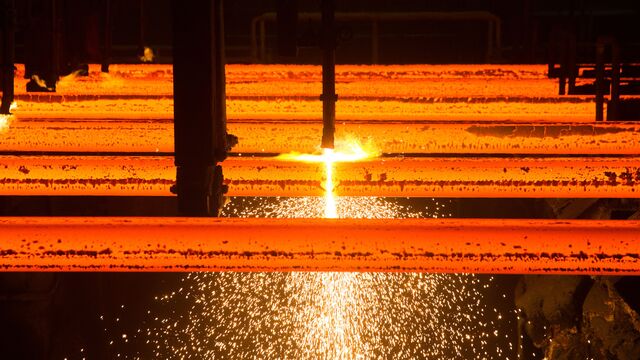 President Donald Trump spent the week talking tough about trade and foreign workers, but his actions will do more this year to create paperwork at federal agencies than jobs for Americans.
In what's been dubbed "economic nationalism week" inside the White House, Trump has posed for photos while signing executive actions on trade, foreign hiring and U.S. manufacturing. He said at Snap-On Inc. in Kenosha, Wisconsin, on Tuesday that he is sending "a powerful signal to the world: We're going to defend our workers, protect our jobs and finally put America first."  
The executive order and a memorandum Trump signed, however, simply direct federal agencies to spend months studying issues and making recommendations. Whether any policy changes result that eventually create jobs is unclear. While studies can be valuable, they shouldn't be confused with actions that affect the economy or unemployment, analysts and economists said.
"There is a high ratio of study to action," said Douglas Holtz-Eakin, an economist and president of the conservative advocacy group American Action Forum in Washington. "This administration seems very intent on getting some wins on the board, so they are doing a lot of it with these signings."
He said that he expects the measures will eventually yield new policies on foreign workers and steel imports.
Trump ended his week by ordering yet another study: a review of financial regulations issued in the last year of Barack Obama's presidency. Treasury Secretary Steven Mnuchin told reporters that the orders "make clear what the president and administration's priorities are" and "signify the importance to the American people."
Slowed by Congress
The orders Trump signed this week provide him a public relations benefit, showing supporters that he's working on his campaign promises as the 100-day mark on his presidency approaches. But many of his pledges to goose the economy, including measures on trade and corporate tax reform, require congressional approval. Trump has seen little legislative success so far, as a divided Republican party has failed even to deliver on its promise to repeal Obamacare.
The moves came a week after Trump broke a major campaign promise when he refused to label China a currency manipulator. Last week he also appointed new board members to the Import-Export Bank, in a blow to economic populists who regard the agency as corporate welfare.
Aside from withdrawing from the Trans-Pacific Partnership, a trade accord that Congress had already refused to endorse even before he was elected, Trump has few tangible accomplishments to boast about so far on trade, one of the central themes of his campaign.
"It's ranged from commissioning studies over a 90-day period to commissioning studies over a 120-day period, with very little actual action," said Jason Furman, a senior fellow at the Peterson Institute who was chairman of the Council of Economic Advisers during the Obama administration. Trump's activity "looks more like a superficial box-checking exercise than a large change."
Steel Study
In an Oval Office ceremony Thursday, Trump signed a memorandum telling the Commerce Department to expedite a study it had already begun to examine whether steel imports hinder national security. The memo directed the probe to be completed in less than the 270 days allotted by law, but it's not clear that the agency would have moved any slower without the president's prodding.
With steel industry executives at his side, Trump declared the opening of the Commerce investigation "a historic day for American steel and most importantly for American steel workers." Steel industry analysts don't expect the probe to have any impact soon.
"This, like other things, is a bridge to nowhere," said Gordon Johnson, an analyst at Axiom Capital Management "A year to review things? Push back will be tremendous on this as it has been on the 'buy American pipe,'" he said, referring to Trump's February order that U.S. pipelines should be made with domestic steel, a directive that came with loopholes.
Buy American
Earlier in the week, Trump ordered federal agencies to examine how they can buy more American-made goods and ordered an investigation of foreign tech worker visas. The document requires agencies to review their compliance with "buy America" laws over the next 150 days, and gives the U.S. Commerce Department 220 days to recommend improvements to the regulations.
Even if agencies heed the directive and ramp up their efforts to buy U.S. goods, analysts question whether that will create much job growth. Demand for U.S.-made products would increase somewhat, but the requirement could also delay much-needed public-works projects as U.S. manufacturers gear up to increase their supply. The order could also drive up prices by reducing competition from foreign companies, and prompt retaliatory tariffs, hurting U.S. exporters and reducing jobs.
Trump's order on foreign worker visas, called H-1B, calls for federal agencies to recommend ways to ensure the visas are directed to the most skilled and highly paid applicants. The impact will be modest, according to people who track immigration policy. The White House didn't actually propose concrete changes to the H-1B program, and made no changes in how they were allocated for 2018.
Again Trump finds himself constrained by Congress: most immigration policy is set through legislation. The administration cannot change the minimum requirements for visa applicants on its own, or change the number of H-1B visas that the government distributes. Substantive reform has to come through Congress, said Bruce Morrison, who helped create the program as a congressman and is now a lobbyist for IEEE-USA, an advocacy group for technology workers. 
"For the most part, the problem that people see with the H-1B program are problems with the statute," he said. "You can only close the loopholes through Congress." 
— With assistance by Joshua Brustein, Thomas Black, and Jennifer Jacobs
Before it's here, it's on the Bloomberg Terminal.
LEARN MORE