Russian Lawmaker's Hacker Son Gets 27-Year U.S. Prison Term
By
Roman Seleznev was convicted of cyber crimes by Seattle jury

He sought leniency claiming brain damage from terrorist attack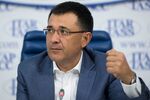 The son of a Russian lawmaker depicted by U.S. prosecutors as a master cyber-thief who made the purchase of stolen credit cards "as easy as buying a book on Amazon" was sentenced to 27 years in prison.
Roman Seleznev was found guilty in August of filching consumer credit card numbers from hundreds of retail businesses worldwide and selling the data online, allegedly causing more than $169 million in fraud losses. In federal court in Seattle, the government sought a 30-year prison term for the 38-count conviction, saying Seleznev created an internet marketplace for hackers to sell millions of stolen credit-card numbers and trained thousands of criminals how to use the data to commit fraud.
U.S. District Judge Richard Jones expressed skepticism Friday about Seleznev's letter to the court in which he apologized and asked for mercy.
"He made no statement expressing culpability and remorse until after the conviction," the judge said. "The court finds the timing of that letter does not meet this court's expectations."
Yahoo Hack
Seleznev's punishment, which includes restitution for the losses, is even stiffer than the 20-year prison term imposed in 2010 on a Miami hacker convicted of stealing 130 million credit- and debit-card records from Heartland Payment Systems Inc. and other companies. Prosecutors described that case at the time as the largest U.S. identity-theft ring.
The sentencing comes amid stepped-up pressure by the U.S. government on Russian hacking networks. Since October, several Russians have been charged with cyberattacks on American internet companies, including two officials at Russia's Federal Security Service, or FSB, accused of orchestrating a massive hack of Yahoo! Inc.
A St. Petersburg resident described as the world's most notorious criminal email spammer was arrested in Spain this month at the request of the Justice Department and multiple investigations continue into alleged attempts to influence the U.S. election last year by Russia's state cyber-spying regime.
Father in Parliament
Seleznev, who was hunted by the U.S. Secret Service for more than a decade before his 2014 arrest in the Maldives, is the son of Valery Seleznev, a member of the State Duma, the lower house of Russia's parliament.
When Seleznev was arrested, the Russian Foreign Ministry accused U.S. agents of kidnapping him after a passport check in the South Asian island country and forcibly taking him to Guam. At Seleznev's trial, his lawyer wasn't allowed to argue to the jury that he was kidnapped.
After the sentencing, Seleznev's lawyer read a letter to the press from his client on the courthouse steps and said there's been no decision whether to appeal.
Attorney Igor Litvak said Seleznev thinks "he's a political prisoner and he believes he is being used as a pawn" because of the difficulties between the U.S. and Russia.
In Russia, Seleznev's father told RIA news service "it's a cannibalistic sentence. It was decided in advance. I don't think he is guilty."
Seattle U.S. Attorney Annette Hayes called the sentencing "a bad day for hackers around the world."
"As Mr. Seleznev has now learned, and others should take note -- we are working closely with our law enforcement partners around the world to find, apprehend, and bring to justice those who use the internet to steal and destroy our peace of mind," she said in a statement. "Whether the victims are multi-national banks or small pizza joints, we are all victims when our day-to-day transactions result in millions of dollars ending up in the wrong hands."
Financial Institutions
The U.S. said Seleznev's victims include more than 3,700 financial institutions and 500 businesses, as well as millions of individual credit-card holders. He made tens of millions of dollars through his fraud and lived an extravagant lifestyle, jetting between Vladivostok, Russia, and Bali, Indonesia, prosecutors said in a court filing.
"Never before has a criminal engaged in computer fraud of this magnitude been identified, captured, and convicted by an American jury," the government said.
Seleznev's lawyers told the judge "his entire life was a series of tragic events," including in 2011 when he suffered severe head injuries at a cafe in Morocco where a suicide bomber blew himself up. While not recommending a specific sentence, his attorneys noted that he has remained incarcerated since his arrest.
"Almost three years of incarceration already serves as a powerful deterrence for Mr. Seleznev and sends a clear message that society, law enforcement and courts will not tolerate such conduct," the lawyers said in a court filing.
The case is U.S. v. Seleznev, 11-cr-00070, U.S. District Court, Western District of Washington (Seattle).
— With assistance by David Voreacos, and Stepan Kravchenko
Before it's here, it's on the Bloomberg Terminal.
LEARN MORE