Power Outages Delay Commutes in Both N.Y., San Francisco
By and
Utilities in both cities blame blackouts on equipment failure

Arca Options San Francisco exchange closed trading floor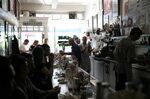 Commuters in San Francisco and New York both showed up to work late Friday morning for the same reason: power failures.
On the West Coast, power was cut after 9 a.m. to about 88,000 customers of PG&E Corp.'s Pacific Gas & Electric unit after a failure of a circuit breaker that caused a fire at a substation, said spokeswoman Nicole Liebelt. The utility is investigating the cause of the equipment breakdown, she said.
A large swath of the city including businesses in San Francisco's Financial District were left in the dark. Power had been restored to 23,000 homes and businesses as of 2 p.m. local time and most were expected to have the lights back on by 6 p.m., Liebelt said.
"Our crews continue to work throughout the day to make repairs," she said.
Utilities in both San Francisco and New York said no injuries were reported. The Intercontinental Exchange Inc.'s NYSE Arca Options San Francisco trading floor closed briefly due to the power failure, according to an emailed statement.
Jim Allison, a spokesman for the Bay Area Rapid Transit system, said the outage forced the evacuation of its Montgomery Street station and riders were directed to neighboring stations. The station was later opened for service, according to a statement on the transit system's website.
The San Francisco Municipal Transit Authority, which runs the city's electric trolleys and buses, stopped service on a number of lines Friday morning because of the power loss, according to the agency's twitter feed.
In New York, Governor Andrew Cuomo ordered an investigation after the lights went out at a subway station at Seventh Avenue and 53rd Street in Manhattan, causing significant delays across the network. 
Consolidated Edison Inc. said it's working with the Metropolitan Transportation Authority to repair underground equipment "as expeditiously as possible." The MTA said on its twitter feed that service has since resumed with extensive delays.
Before it's here, it's on the Bloomberg Terminal.
LEARN MORE