How to Win France's Election
Four candidates have a real path to the presidency.
By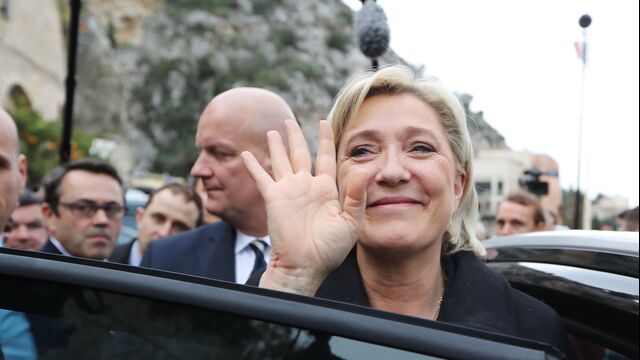 France's 2017 election is the most open in half a century of presidential balloting.
It's not just that the four front-runners are in a virtual tie coming down the final stretch of the campaign. Almost a third of voters say they don't plan to vote, and about 30 percent of those who will say they're still unsure of whom they'll support in Sunday's first round.

Any of the top four could win. One of them will. Here's how each could get across the line.
Emmanuel Macron
The front-runner for the past three months, Macron's challenge is the simplest: He just has to hang on.

 If the 39-year-old centrist can make it into the May 7 runoff, polls suggest he'll win comfortably against any of his rivals. But making the second round is far from guaranteed. His supporters are less committed to vote for him than are Le Pen's, though they have become more faithful in recent weeks.
Macron has been vying with National Front leader Marine Le Pen for the first-round lead for most of the past two months, but both have seen their support erode since the start of April. Republican Francois Fillon rose to within one point of him and Le Pen in mid-April in Bloomberg's composite of French polls before falling back.

Marine Le Pen
Since the start of the campaign, no poll has shown Le Pen eliminated from the runoff, even though she's lost some steam in the final weeks. Her voters are the most committed of any candidate's supporters — even though no poll has shown her winning the presidency should she get into the second round.
Based on the past three presidential elections, the 2017 winner will need about 18.2 million votes to win. The most the National Front has ever chalked up was 6.8 million in 2015's regional elections. 
But there's another way of looking at it.
"Le Pen's reference is not the last presidential election, it's the 2005 European referendum," said Edouard Lecerf, director of political opinion studies at Kantar TNS.
When France voted against the EU constitution in 2005, 15.4 million carried the day. That's an indication of the potential pool of votes that might be open to Le Pen's patriotic agenda, Lecerf said.
If turnout were to fall below 1969's record low of 64 percent, it becomes mathematically possible for Le Pen, 49, to become president. With a 60 percent turnout, a candidate needs 14.1 million votes. Even a 65 percent turnout rate means 15.3 million votes can put Le Pen in front — almost the same as the 2005 figure. 
"The best-case scenario for Le Pen would be a runoff against Fillon," Barroso said. "The risk is that center-left voters decide to stay at home, allowing Le Pen to be elected by voter neglect."

Francois Fillon
When the Republicans candidate left for his Christmas skiing holiday, he was the odds-on favorite to be France's next head of state. By the time school holidays filled the Alps again in February, he'd been dragged into a dogfight to save his political career.
A prosecutors' probe into his family's affairs knocked his first-round support down to 17 percent at his lowest point, from 29 percent at his peak in November. His former supporters have gone to Macron, or to a marginal right-winger, Nicolas Dupont-Aignan, or have opted not to vote. To win them back, he's tried protesting his innocence, apologizing and blaming his woes on a conspiracy.
So far Fillon, 63, has managed to climb back to about 19 percent. If he finds another 3 percentage points, which he'd need to extract especially from younger and rural voters, he could make the runoff.
Even if Fillon qualifies, an Elabe poll shows he would lose against Macron or Melenchon, though he would beat Le Pen. Facing either the far-left or far-right candidates, he would likely ask voters to choose "me or chaos".
"There's a large right-wing vote in this country that's in line with Fillon's program that for the moment won't vote for him because of the affairs," said Jerome Fourquet, director of opinion studies at pollster Ifop. "Will they stick to this position or will they change their minds around the family dinner table? The problem of measuring these people is that they are facing a moral dilemma, not that they aren't being honest with pollsters."

Jean-Luc Melenchon
The most surprising contender of a most surprising election spent the first months of the campaign arguing with his Socialist rival, Benoit Hamon, about which of them should step aside so left-wing voters could unify around a single ticket.

Since Melenchon, 65, outshone his rival in the first television debate on March 20, those voters have made up their minds. His support has almost doubled, to 19 percent, as he's deployed high-tech gimmicks like holograms of himself at campaign rallies and an online video game. Hamon, meanwhile, has plunged to 8 percent from 18 percent on Feb. 1.
Melenchon, who's backed by the Communist Party, now trails second-place Le Pen by just 3.5 percentage points. More than any of his rivals, he's had momentum going into the first round. Those remaining Hamon supporters would be enough to put him into the runoff if they opt to back him.
If Melenchon were to make it, he'd beat Fillon 57 percent to 43 percent and win over Le Pen by 58 percent to 42 percent. He'd lose to Macron, though, 41 percent to 59 percent.

—With assistance from Hayley Warren
Before it's here, it's on the Bloomberg Terminal.
LEARN MORE