Pakistan Court Orders Further Graft Probe Against Sharif
By , , and
Court ruling takes immediate pressure off Pakistani leader

Supreme Court says investigative report must come in 60 days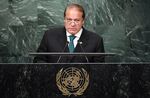 Pakistan's top court ordered further investigation into corruption charges against Prime Minister Nawaz Sharif, for now taking off the immediate prospect of a potential disqualification as his government continues efforts to boost an economy hit for years by power outages and terrorism.
In a three-two split decision by the five-member bench, the Supreme Court ordered a "joint investigation team" to probe allegations that Sharif and his children brought foreign assets illegally, Justice Asif Saeed Khosa, said in Islamabad, the capital, on Thursday. The investigative unit should submit its report within 60 days, he said.
"A special bench will be constituted to look into the matter after the final report and whether the prime minister's disqualification can be considered," Khosa said.
Making his verdict as hundreds of riot police and paramilitary troops were deployed within a five kilometer (3.1 mile) radius of the court, Khosa concluded the hearing of petitions by opposition leader and former cricket star, Imran Khan, who brought the case against Sharif and his family before elections next year. Immediately after the ruling the nation's benchmark stock index advanced as much as 4 percent, the largest jump in more than two years, before paring gains to 2.4 percent at the close of trading.

The court took up the case in November following a report by the International Consortium of Investigative Journalists showed Sharif's three children either owned or have signing rights to authorize transactions of four offshore companies in the British Virgin Islands. Those holdings were alleged to have been used to make property purchases in London. Sharif's political opponents doubted the premier's family obtained those assets legally.
The decision eases an immediate political crisis for Sharif ahead of the 2018 national vote amid opposition calls for him to step down. After the release of the report based on leaked documents of Panama-based law firm Mossack Fonsecca in April, Sharif had pledged to resign if charges were proved.
Sharif's government will probably now "go ahead and complete its term," Burzine Waghmar, a member of the Centre for the Study of Pakistan at the School of Oriental and African Studies in London, said by phone. "The administration will ride" the investigation out.
Family Celebration
Pakistan, a Muslim-majority nuclear-armed state has been ruled by its powerful military for much of its history after independence in 1947 and its politicians have long faced accusations of corruption which often resulted into their detentions and ousting from power. The country ranks at 116 out of 176 countries in Transparency International's 2016 corruption perception index.
Maryam Sharif, the daughter of the prime minister who was implicated in the corruption hearing, posted photos on Twitter of her father and family celebrating after the court decision and said the ruling was a "defeat of petitioners." She is widely seen as a potential heir to the family political dynasty.
Shortly afterward Khan, leader of the second largest opposition party -- Pakistan Tehreek-e-Insaf -- called on the prime minister to resign until the investigative unit submitted its report. Former President Asif Ali Zardari, co-chairman of the Pakistan Peoples Party -- the largest opposition group -- also said the premier should step down on moral grounds.
"All their explanations on their source of income and money trail have been rejected," Khan said at a press conference in Islamabad. "What moral justification has he got left to stay as prime minister?"
Relative Prosperity
Sharif has ushered in relative prosperity in Pakistan with the help of a $6.6 billion International Monetary Fund loan program that averted balance-of-payment crisis in 2013. The economy will continue to expand by 5.2 percent in 2017, according to a survey by Bloomberg this month.
Pakistan's stock market was the best performer in Asia last year and China is investing more than $50 billion in loans and funds in a so-called China-Pakistan Economic Corridor to revamp the country's decrepit infrastructure.
The verdict "sets the ruling party up for electoral victory in 2018" and Sharif's party will "attempt to quickly shift the conversation toward its recent economic accomplishments and the implementation of CPEC projects," said Firat Unlu, an analyst at the Economist Intelligence Unit in London.
"While the court decision comes as major blow to the opposition, the PTI and PPP now have every incentive to fully swing into election mode," Unlu said. "Consequently major political rallies will be held over the coming months. This will add to social tensions and raises the risk that the powerful military might be forced to resolve a political dispute among rival parties."
— With assistance by Chris Kay
Before it's here, it's on the Bloomberg Terminal.
LEARN MORE