business
Brexit Bulletin: 'Make Me Stronger'
The election campaign is on. What choices will Britain be offered?
By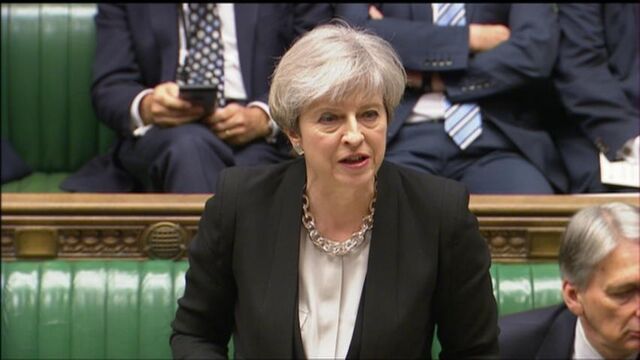 Sign up to receive the Brexit Bulletin in your inbox, and follow @Brexit on Twitter.
Theresa May began fleshing out her election pitch by saying a victory in June for her Conservative Party would "make me stronger" for the Brexit negotiations.
"Every vote for the Conservatives will make it harder for those who want to stop me from getting the job done," the U.K. prime minister said. "Every vote for the Conservatives will make me stronger when I negotiate for Britain with the European Union."

On Wednesday, Parliament gave its overwhelming support to May's plan to hold a vote on June 8, three years earlier than scheduled. Just 13 lawmakers voted against going to the country. 
With the starting gun fired, eyes will turn to May's policies. The Daily Mail reports today that the upcoming Tory manifesto will commit to ending free movement of labor as well as withdrawing from the single market and the European Court of Justice.
That suggests a "hard Brexit" remains on track even though a bigger parliamentary majority would give May more room to negotiate and space to make concessions. Charles Grant of the Center for European Reform wrote in the Guardian that the EU won't make Brexit easy, no matter what the election result is.
A YouGov poll in the Times gave the Conservatives 48 percent support and the opposition Labour Party 24 percent. The newspaper also said May might compromise on her previous reluctance to take foreign students out of immigration data.
Read more: Here are all the Brexit dates you need to know for the upcoming talks.
Referendum Reality
For those who believe Brexit is a terrible mistake that could be undone, May's decision to call a snap election offered a moment of hope followed by a hard dose of reality.
After her announcement, Stephen Dorrell, chairman of the European Movement, emailed supporters to say "it is not too late to change our minds."
But that might involve voting May out of power and holding a second referendum, a scenario that even the most optimistic europhiles see as politically implausible, according to Bloomberg's Robert Hutton.
"If you held a rerun of the referendum tomorrow, you'd get the same result," said James McGrory, director of Open Britain, the campaign for keeping the U.K. close to the European Union.
The realization that Brexit is irreversible is now dawning on die-hards among the 16 million people, or 48 percent of voters, who voted Remain. At best, they can try to soften a hard Brexit landing. The Times reports today that Labour is considering offering voters a chance to reject any future Brexit deal. However...
Back to the 1980s
There is one important caveat when considering Labour's position in the election: the party's dire showing in opinion polls.
Just like in 1983, a female prime minister has called an election when the opposition is divided, squabbling over policies and led by an unpopular socialist who has prompted some lawmakers to jump ship.

That PM was Margaret Thatcher and the Labour leader was Michael Foot. Today it's deja-vu for the Labour Party more than three decades later, Bloomberg's Alex Morales reports. That vote saw Labour crash to its worst post-World War II electoral defeat, and the party took another 14 years to win power. Polls suggest it is headed for a similar fate in June.
"It's hard to see a silver lining for a party going into a general election with a 20-point deficit," said Anthony Wells, associate director of political research at YouGov. "They're going to suffer very badly, and there's no way of polishing it up and seeing a bright side."
On the Markets
The pound slipped on Wednesday from its highest point in six months, but not before its election-inspired rally led the FTSE 100 Index to erase its 2017 gains. A stronger currency undermines earnings optimism for the more international companies on the benchmark.

Morgan Stanley and Nomura were among those to recommend buying sterling. A Bank of America survey of investors found the U.K. to be the least preferred stock market within Europe.
Whither the Bankers?
Bloomberg is beginning to track the number of bankers potentially fleeing London as Brexit nears. Banks are planning to move employees from the U.K. The question is how many will leave, and where will they go?

The International Monetary Fund on Wednesday added its voice to those warning the U.K. leaving the EU would threaten to undermine global financial stability and erode London's status as a financial hub.
Het Financieele Dagblad reported real estate brokers are seeking office space to allow JPMorgan Chase to expand in Amsterdam.
Still, Morgan McKinley said in a report on Thursday that 8,145 new U.K. financial services jobs were advertised in March, a 17 percent increase from February.
And banks considering Paris will face a surge in home prices there relative to slumping London. Home values in the French capital rose 9 percent in the first quarter from a year earlier and are 22 percent more costly for sterling buyers, it said.
The EU was also quick to dismiss an effort by the U.K. to keep the bloc's banking and drugs regulators in London after Brexit.
Brexit Bullets
And Finally…
"People in this country have had enough of experts," pro-Brexit lawmaker Michael Gove declared during last year's referendum campaign. Now May stands accused of feeling the same way.
On a panel organized by the Institute for Government on Wednesday, former civil servant Andrew Cahn said he knew of people who had offered their advice to May's office only to be rebuffed. He also bemoaned that businesses are not being involved more in the Brexit planning.
"My sense is that this does come from within Downing Street," he said. "They should be getting in people with real experience."
For more on Brexit follow Bloomberg on Twitter, Facebook and Instagram, and see our full coverage at Bloomberg.com
Before it's here, it's on the Bloomberg Terminal.
LEARN MORE