Your Evening Briefing
Here are today's top stories.
Bloomberg News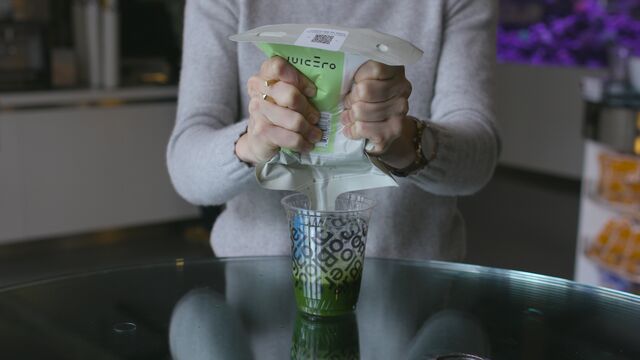 Want to receive this post in your inbox every afternoon? Sign up here.
Today, in "things that sound much better than they are": a $400 Wi-Fi juicer. Originally $700, the Juicero has the smooth curves of a Jony Ive design, a catchy nickname ('the Keurig of juicers'), and a lot of investor cash. There's just one tiny problem, as Bloomberg reporters found out. Read on for more of today's top news. - Katie Robertson

Silicon Valley's $400 juicer feels the squeeze. Juicero was one of the most lavishly funded gadget startups in Silicon Valley last year, raking in about $120 million from Google's venture capital arm and other backers. Its internet-connected juicer is said to wield four tons of force to turn the company's individual fruit and vegetable packs into a refreshing beverage. But there's a much cheaper alternative to the high-tech machine: squeezing the juice packs by hand yields nearly the same amount of juice, just as quickly.
Bill O'Reilly is out at Fox News in the wake of a sexual harassment scandal. His departure marks a stunning fall for one of the most recognizable faces in cable television. It's also a major blow to Rupert Murdoch's 21st Century Fox, where Fox News has been the most profitable network and O'Reilly was the channel's biggest draw.
President Trump weighs military options for North Korea, all grim. With Seoul just 35 miles south of the border, any of the war-game scenarios at the Pentagon's disposal could have devastating human and economic costs. Mike Pence, who is meeting with allies in Asia this week, said Wednesday that he doesn't see the possibility of direct talks between the U.S. and North Korea "at this time."
Larry Fink says there are indications the U.S. economy is slowing. In a Bloomberg TV interview, the BlackRock CEO said "the warning signs are getting darker" as businesses weigh whether the Trump administration will be able to pass tax reform and an infrastructure program quickly.
Ivanka fights to protect her first name. The first daughter, who, like her father, is a brand as much as a person, has launched an international legal effort to block anyone from profiting from her name. In China, her company filed a series of applications to trademark just "Ivanka."
The celebrity techsplainer of Beverly Hills. When Chris Rock streams to Facebook Live or the Edge wants in on the farm-to-table space, they look up Abe Burns. The 33-year-old helps bring entertainers to the masses online — and introduces them to his other passion, tech startup investing.

Disney's intergalactic theme park quest to beat Harry Potter. Since Disneyland opened in California in 1955, the company has been perfecting the process of fantasy-world creation. But the past decade has seen strong competition from Universal's Harry Potter theme parks. Disney is betting on attractions based on Avatar and Star Wars to steal back the magic and fend off the rivalry.



Before it's here, it's on the Bloomberg Terminal.
LEARN MORE