Cubs Co-Owner Ricketts Withdraws as Trump Deputy Commerce Pick
By
Difficulty disengaging from team said to be behind decision

Ricketts family spent at least $1 million to back Trump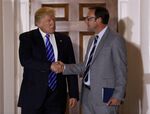 Chicago Cubs co-owner Todd Ricketts withdrew Wednesday from consideration to be President Donald Trump's deputy U.S. commerce secretary.
Ricketts had difficulty disengaging from his family's ownership of the baseball team to meet ethics rules, according to a person familiar with the situation, who spoke on condition of anonymity to discuss private deliberations. Although Ricketts was among Trump's first batch of nominees, the Senate Commerce Committee had not scheduled a confirmation hearing.
"I am deeply honored that President Trump nominated me to serve as deputy secretary of commerce," Ricketts said in a statement. "I offer my continued support for President Trump and his administration, and the important work they are doing to promote economic opportunity. I hope there are other opportunities to contribute to his administration in the future."
The president announced his intention to name Ricketts Nov. 30 and formally sent the nomination to the Senate on his inauguration day.
Ricketts, in addition to helping deliver a World Series championship to Chicago fans last year, also sits on the board of TD Ameritrade, founded by his father, Joe Ricketts. His brother is Nebraska Governor Pete Ricketts, a Republican.
The Ricketts family spent at least $1 million backing Trump in the 2016 presidential election.
His decision to withdraw was first reported by the Chicago Sun-Times.
Before it's here, it's on the Bloomberg Terminal.
LEARN MORE