Qualcomm's Chip Expansion Helps Deflect Lawsuit Concerns
By
Chipmaker's sales boosted by new markets, such as automotive

Apple suppliers paid licensing revenue, but not full amount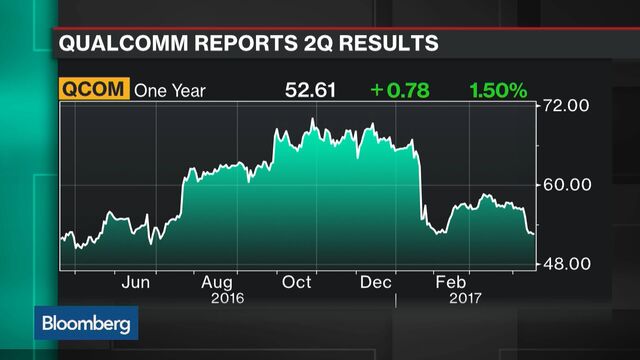 Qualcomm Inc., the biggest maker of chips used in mobile phones, said a push into new markets such as automotive and connected devices bolstered sales in the second quarter, helping relieve concerns that growth will be hurt by legal challenges in its licensing business.
Adjusted sales and profit topped analysts' estimates in the period that ended in March. The company's semiconductor unit exceeded expectations, lifted by demand from outside the smartphone market, Chief Executive Officer Steve Mollenkopf said in an interview. Qualcomm also did well in the Chinese phone market, he said.
"We're executing on the parts that we can control," he said. "We saw strength in the product business."
The results help validate Mollenkopf's decision to acquire NXP Semiconductor Inc. for $47 billion -- the biggest purchase in the company's history, due to close later this year -- to ease Qualcomm's reliance on the smartphone market. The semiconductor maker said its licensing business, which generates the majority of profit, didn't receive full royalty payments associated with phones sold by Apple Inc., which is suing Qualcomm, claiming the company abused its position to create a monopoly in chips. Qualcomm has countersued.
"The fundamentals are fine, but I'm not sure how important that will be," said Mike Walkley, an analyst at Canaccord Genuity. "There's some worry and consternation that if Apple is withholding payments or forcing their contractors to withhold payments, what does that mean for guidance and revenue recognition?"
Second Quarter
Qualcomm's net income in the fiscal second quarter, which ended March 26, fell to $749 million, or 50 cents a share. Excluding certain items, profit was $1.34 a share, compared with an average estimate of $1.19. Adjusted sales gained 8 percent to $5.99 billion. Analysts had predicted revenue of $5.87 billion.
Profit was helped by sales of chips used in cars, networking and the internet of things, a term used to refer to the addition of connectivity and computing to everyday devices like air conditioners. Second-quarter chip revenue increased 10 percent from a year earlier to $3.7 billion, Qualcomm said.
The company is still on course to close its acquisition of NXP by the end of the year, Mollenkopf said. The deal will make Qualcomm the largest provider of silicon to the automotive industry. That market is expanding rapidly as automakers cram more electronics into their vehicles in the race to make cars autonomous.
Sales in the third quarter will be $5.3 billion to $6.1 billion, the San Diego-based company said Wednesday in a statement. Profit before certain items was forecast at 90 cents to $1.15 a share. That compares with average analysts' projections for sales of $5.93 billion and profit of $1.09 a share, according to data compiled by Bloomberg.
Qualcomm shares climbed 2.4 percent in extended trading. Earlier, they slipped less than 1 percent to $52.61 at the close of trading in New York. The stock has lagged behind other chipmakers this year, losing 19 percent compared with an 8.3 percent jump in the benchmark Philadelphia Stock Exchange Semiconductor Index.

Qualcomm's lucrative licensing division funds an industry-leading research-and-development budget, which has helped its chips stay ahead of rivals' technology advances. That strategy, which has let the company more than double revenue since 2010, is under threat as the dispute with Apple worsens and it deals with regulatory investigations in the U.S., South Korea, Taiwan and Europe.
Last week, Qualcomm said it would pay $814.9 million to end a royalty dispute with BlackBerry Ltd. The two companies had entered binding arbitration over refunds the Canadian company said it was owed for licensing fees it prepaid for smartphones, which it no longer makes. Qualcomm said the judgment has no bearing on other cases.
Qualcomm gave a wider-than-normal forecast range for the current quarter, reflecting the possibility that Apple may pressure its suppliers -- who pay licensing fees to the chipmaker for the iPhone maker's devices -- to refuse to pay in full, company President Derek Aberle said.
"We'd expect that they will pay, consistent with their obligations," he said. "We can't completely discount the possibility that Apple will continue to interfere and cause them to pay less than they owe."