Morgan Stanley Bond Traders Top Goldman for First Time Since 2011
By and
Highest return on equity in two years reaches Gorman's target

Goldman Sachs stuck with business as Morgan Stanley retreated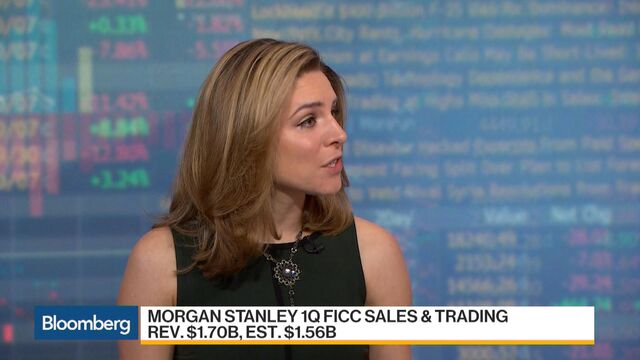 A year ago, Morgan Stanley had just taken an ax to its bond-trading business, scaling back as Goldman Sachs Group Inc. vowed to stay the course. Now, for the first time since 2011, Morgan Stanley topped its bigger rival in one of Wall Street's fiercest arenas.
First-quarter revenue from trading bonds, currencies and commodities almost doubled at Morgan Stanley to $1.71 billion, the firm said Wednesday in a statement, edging out Goldman Sachs's $1.69 billion. Morgan Stanley last beat Goldman in that business in the second quarter of 2011, data compiled by Bloomberg show.

Results for the first three months of the year, which often account for as much as a third of annual revenue, highlight a difference in the two firm's business models. Morgan Stanley, concluding that new rules had permanently impaired the outlook for fixed-income markets, moved last year to slash a quarter of its sales and trading staff and sold large chunks of its commodities business. Goldman Sachs made less radical changes and defended its commitment to a broad swath of clients, including commodities customers.
Morgan Stanley's fixed-income business benefited from strength in rates trading because of "variability around interest-rate expectations" and credit trading that was fueled by tightening spreads, Chief Financial Officer Jonathan Pruzan said in a telephone interview. The business is "clearly credible and critically sized, and it's got good momentum," he said.
The results marked the fourth straight quarter Morgan Stanley posted bond-trading revenue exceeding $1 billion after Chief Executive Officer James Gorman said the business could produce at least $4 billion annually. The fixed-income division -- crucial to the CEO's plan to improve companywide returns -- was overhauled after revenue plunged to $550 million in the final quarter of 2015. Trading chief Ted Pick cut about 25 percent of the division's staff and assigned equities executive Sam Kellie-Smith to turn around the business.
Read more: Morgan Stanley earnings beat estimates
Goldman Sachs blamed Tuesday's surprise miss, with fixed-income revenue falling short of analysts' estimates by more than $300 million, on weaker demand in commodities, currencies and credit. CFO Martin Chavez cited low volatility in oil prices and the dollar-euro exchange rate, and said the firm "didn't navigate the market well." He cautioned against drawing too many conclusions from a single quarter.
While Goldman Sachs was the top-ranked commodities trading firm for the past three years, Morgan Stanley fell into the second tier last year, ranking no higher than fourth among the 12 largest global investment banks, according to Coalition Ltd.
Larger trading firms also posted strong first-quarter results. Bank of America Corp. said Tuesday that trading gains helped fuel a 40 percent surge in profit. JPMorgan Chase & Co. and Citigroup Inc. last week also reported higher fixed-income trading revenue. But Morgan Stanley posted Wall Street's biggest increase for the business, gains that pushed return on equity to the highest in two years.

Morgan Stanley shares rose 2 percent to $42.04 at 4:04 p.m. in New York, the best performance in the 65-company S&P 500 Financials Index. Goldman Sachs, which tumbled 4.7 percent after reporting results Tuesday, dropped 0.7 percent to $214.09.
The bond resurgence at Morgan Stanley boosted the firm's return on equity, a gauge of profitability, to 10.7 percent from 8.7 percent in the previous quarter and 6.2 percent a year earlier. That was the highest since the first quarter of 2015. Goldman Sachs Group Inc., which like Morgan Stanley had a tax benefit related to deferred stock awards, reported an 11.4 percent ROE.
Morgan Stanley's companywide revenue rose 25 percent to $9.75 billion, exceeding the $9.29 billion average estimate of analysts. Goldman Sachs's revenue of $8.03 billion was below analysts' $8.33 billion average estimate.
Momentum in markets at the start of the year related to the U.S. election may be showing signs of slowing, Pruzan said, citing "political uncertainty in the U.S. around policy initiatives, as well as geopolitical risks like what we saw in Syria and North Korea" and the French elections.
"There's a lot out there that causes people to pause, and clearly uncertainty generally doesn't bode well for activity levels," Pruzan said.
Before it's here, it's on the Bloomberg Terminal.
LEARN MORE