Fischer Says Foreign Economies Better Able to Handle Fed Hikes
By
U.S. policy tightening to be driven by economic improvements

Fischer raises prospect of alignment in global conditions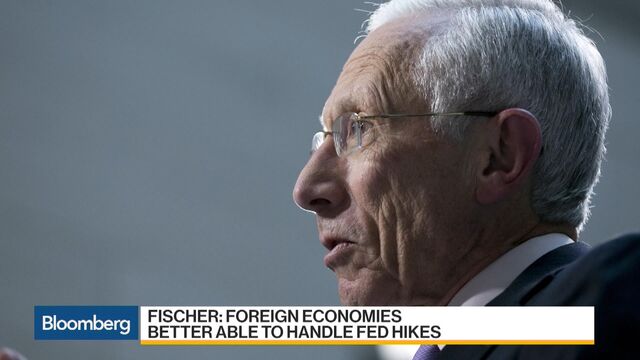 Federal Reserve Vice Chairman Stanley Fischer painted a picture of a brightening global economy that can better manage the spillover of gradual monetary tightening in the U.S.
"I expect that the Fed's removal of accommodation will be driven by a continued expansion of the U.S. economy," Fischer said in the text of a speech he's slated to give Wednesday in Washington. "Foreign economies are likely to benefit from the developments that induce" the U.S. central bank to tighten, he said.
Fischer added that "most foreign central banks" should be able to respond to U.S. rate hikes with policy actions that lessen the impact on financial conditions in their own economies. His prepared remarks were released by the central bank for a speech it said was closed to the media.
The Fed is expected to continue tightening monetary policy this year while other major central banks hold rates steady or ease policy. That divergence is widely expected to strengthen the dollar, making it more difficult for non-U.S. companies that issue dollar-denominated debt.
Fed officials have signaled they remain on course to increase interest rates two more times this year following a hike in March. They've also indicated their openness to begin shrinking their $4.5 trillion balance sheet before the end of the year, a move that is likely to raise market interest rates in dollar-denominated debt.

Fischer, 73, a former senior official at the International Monetary Fund, sounded a note of optimism on the outlook for global growth, in part driven by stronger demand from the U.S. He pointed to falling unemployment and rising inflation in Europe, as well as signs that China's economy appeared to be on "more solid footing."
That helped explain, he said, why the reaction in financial markets to two Fed rate hikes since December was muted, with the dollar depreciating against a basket of major foreign currencies this year.
"Foreign output expansions appear more entrenched, and downside risks to those economies noticeably smaller than in recent years," he said. "There may well even be some chance that foreign economies kick into gear enough that U.S. and foreign business conditions become reasonably well aligned."
Before it's here, it's on the Bloomberg Terminal.
LEARN MORE