markets
ECB Officials Inch Toward the Day They Discuss Stimulus Exit
By , , and
Praet, Coeure stress commitment to ECB stimulus and guidance

Officials put forward differing views on balance of risks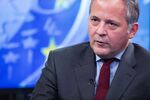 European Central Bank officials signaled that they're getting close to the point when they'll start preparing for the end of an era of unprecedented stimulus.
In the last round of speeches before a week-long quiet period ahead of the next policy meeting, Executive Board members Benoit Coeure and Peter Praet agreed that the euro-area recovery has become broad-based, while diverging on whether the risks to that outlook are still skewed to the downside.
The 25-member Governing Council will debate the precise formulation of its stance on the economy when it decides on interest rates and stimulus settings on April 27. But with a potentially explosive election in France coming this weekend, that may still prove too soon for any change in its currently ultra-cautious tone.

"We would say that risks are still tilted to the downside" in the medium term, Praet said in New York on Wednesday, even as he acknowledged that the shorter-term outlook has improved. That differed slightly from his colleague Coeure, who said a few hours earlier that he doesn't "personally see risks to the downside any more."
If that sentiment were to be reflected in the ECB's official language -- stating that the risks are now evenly balanced, rather than pointed to the downside -- it could signal that the beginning of the end for ultra-loose monetary policy is at hand. Even so, while anti-euro Marine Le Pen is still challenging for the French presidency, core inflation is still feeble and uncertainties linger over the strength of global trade, officials are likely to be reluctant to rush in.
Too Early
Praet and Coeure's remarks follow weeks of divergent signals from their colleagues on the ECB's Governing Council over how they'll eventually exit their unprecedented stimulus, including an attempt by President Mario Draghi to stem the discussion by saying inflation isn't strong enough to start signaling any shift. Praet pointed to Draghi's affirmation of the current guidance while Coeure noted it's too early to change anything just yet.
"We are very, very serious about the forward guidance we have given to financial markets," Coeure said, "including the fact that we will be buying financial assets until December or later if necessary, that rates will remain low, that we don't see a reason today to change that sequence, that rates will be lifted only well past the horizon of our asset purchases."
Justified Debate
The last scheduled policy speech before the Governing Council's quiet period came from French central-bank Governor Francois Villeroy de Galhau, who said in New York that the current economic situation in the euro area "does not call for a recalibration" of policy.
"Our current monetary policy stance remains fully appropriate based on current information," he said. "For the future, on the most appropriate way to reduce the intensity of our accommodation when it becomes warranted, two principles should in my view guide us: these are prudence and effectiveness."
That's because the recovery is still fragile and inflation wouldn't sustainably return to the central bank's target of just below 2 percent if stimulus was removed, he said, adding that officials will assess the situation with "great pragmatism."
Earlier in the day, the Estonian Governor Ardo Hansson said in Tallinn that a debate on a future exit from ultra-loose policy is "definitely justified" given that it involves complex technical preparations.
"A lot of news has been relatively positive but it hasn't yet translated into wage growth or core inflation, but it will happen sooner or later," Hansson said.
— With assistance by Ott Ummelas, and Piotr Skolimowski
Before it's here, it's on the Bloomberg Terminal.
LEARN MORE