markets
China Should Open Up Yuan Then Ease Curbs, Ex-Regulator Says
Bloomberg News
Officials worried about speculation as Chinese 'go to extreme'

Trading band may widen as part of process: ex-SAFE director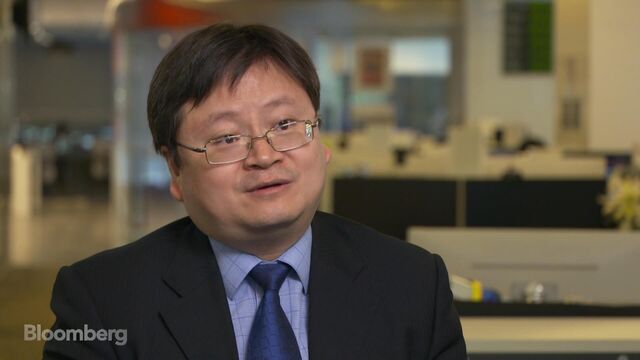 China needs to let more participants trade the yuan onshore, a market dominated by commercial banks, before it can consider lifting capital controls.
That's the view of Guan Tao, former director of the international payments department at China's State Administration of Foreign Exchange. Lenders and the People's Bank of China are the main players in the domestic market, which also requires any buyer of foreign currency to show evidence they have a need for that money.  
"Banks have similar risk appetites, they are all risk averse and they don't speculate on the direction of the exchange rate," said Guan, who worked for the currency regulator for 23 years before leaving in 2015. "Only when there are varying levels of risk appetite will this market enjoy liquidity and see price discovery."

Policy makers have been too quick to open up the country's capital account, and too slow to reform the currency market.
"That's a lesson that needs to be learned," said Guan, now a senior research fellow at China Finance 40 Forum, a Beijing-based think tank whose members include PBOC deputy governors Yi Gang and Pan Gongsheng. "But at the very least, the two processes should generally match each other. They are like two wheels in a car -- if one is going too fast and the other too slow, the vehicle will be overturned easily."
The authorities may widen the yuan's trading band as part of this process, he said.
Chinese banks sold a net 48.3 billion yuan ($7 billion) of foreign currency for their clients last month, the least in seven months, according to SAFE data released Thursday. Outflow pressures eased significantly last quarter as expectations for a weaker yuan waned, Wang Chunying, a spokeswoman for the regulator, told reporters in Beijing. China won't return to the "old path" when it comes to capital controls, she said. The yuan has climbed 0.9 percent so far this year, following its worst annual decline in more than two decades in 2016.
FX Veteran
China's foreign-exchange reforms hit a speed bump last year, as the uptick in outflows and a strong dollar spurred policy makers to tap foreign reserves and tighten capital controls to arrest declines in the yuan. The greenback's retreat and signs China's economy is on a stronger footing have helped the currency stabilize in 2017. Officials eased some of the curbs last week, freeing up banks' ability to process outbound yuan payments for their clients.
Guan worked for SAFE during some of the most important periods in China's currency-market evolution -- from the abolition of the official exchange rate controls in 1994, to the lifting of the dollar peg in 2005 and the yuan's re-peg to the greenback amid the global financial crisis.
He shared his views in an interview in Bloomberg's Beijing bureau Tuesday:
What lies in store for the yuan in 2017?
There are three potential scenarios in the yuan this year, he said. 
The first is that bears refrain from attacking the exchange rate if they believe the government is willing and able to maintain stability; the second is that the currency finds fundamental support if the economic recovery proves to be more solid than expected and the dollar remains weak; the third is that the yuan will come under pressure if the dollar strengthens and Chinese growth slows.
When will policy makers ease capital controls?

"If the current situation doesn't worsen, the policies aren't likely to be tightened. But you shouldn't expect that they will be eased because there's still a lot of uncertainty ahead. The government will want to avoid having its policies reversed -- like repeatedly turning over a pancake -- as that just makes trouble for everyone."
"One can expect the measures to reduce outflows to be eased only when we see some very clear signals, the market environment fundamentally improves, capital starts to flow back into China, and the yuan faces appreciation pressures."
China has a "new Impossible Trinity," Guan said. Authorities either need to let the yuan depreciate, spend foreign reserves, or impose capital curbs. The government has chosen to use all three tools, but relies on different ones at various times.
How will yuan liberalization play out?
Policy makers should allow "an appropriate amount" of speculation. They are still concerned about this after the market turbulence of the past few years and because Chinese investors "will go to the extreme" when they are allowed to speculate.
It's very unlikely China will enact reforms to its exchange rate regime before the 19th Communist Party Congress due to take place toward the end of the year. 
Stability is the government's top priority: "I would personally expect a comprehensive reform package to be accelerated after the 19th Congress -- not only exchange-rate reform but comprehensive reform."
"It doesn't matter if the situation improves or gets worse, China will expand channels to lure more inflows as the next step in the yuan's internationalization"
But when it comes to a free float, it seems China "hasn't set a timetable," he said.
— With assistance by Tian Chen, Ran Li, and Tom Mackenzie
(
Updates with yuan prices in seventh paragraph.
)
Before it's here, it's on the Bloomberg Terminal.
LEARN MORE