Some of France's Rich Are Considering Exile If Melenchon Wins
By , , and
The Hugo Chavez fan wants to cap executive pay, raise taxes

Far-right Le Pen and far-left Melenchon together poll at 40%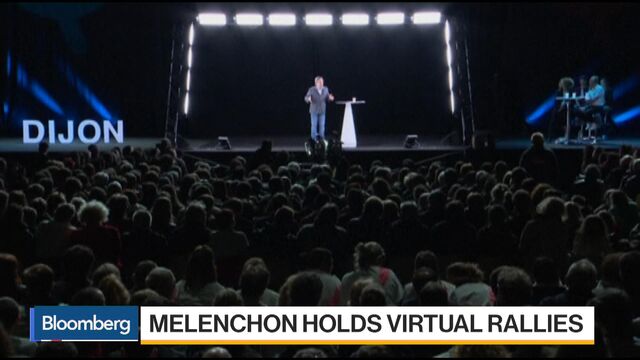 At the elegant Bistro Volnay, a diamond's throw away from Place Vendome's jewellers, Communist-backed presidential candidate Jean-Luc Melenchon dominates conversations of wealthy Parisians as they dig into their sautéed terrine of pig's trotter and calf sweetbread.

Some of the restaurant's clientele is considering exile if Melenchon, a declared fan of Venezuela's Hugo Chavez, wins the presidency -- just like the prospect of Socialist Francois Mitterrand's win in 1981 prompted many millionaires to abandon their country amid talk, partly in jest, of Soviet tanks rumbling down the Champs-Elysees.
"People are saying they'll leave if Melenchon wins, and I'm sure that sooner or later I'll have to look for a way out too," said Philippe Marques, 45, whose restaurant is close to jewelers like Cartier, the Chanel headquarters, the offices of J.P. Morgan and the Ritz hotel. "There's no economy possible with a President Melenchon. His plans for taxes, for limits on wages -- it'll be a bigger blow for the economy than the terrorist attacks were." 
Marques, whose restaurant's patrons include luxury shoe designer Christian Louboutin and Arsenal football club manager Arsene Wenger, is voicing the mounting anxiety of the country's wealthiest and its business community from the stealthy rise in the polls of the leader of the France Unbowed party. The 65-year-old far-left candidate could emerge as one of the two contenders winning the first round on Sunday, qualifying him for the May 7 runoff and giving him a fair shot at the presidency.
Populist Candidates
Polls show that the far-right National Front's Marine Le Pen and Melenchon would together draw about 40 percent of the votes in the first round, reflecting the same populist, anti-establishment trends that resulted in the Brexit vote in the U.K. and Donald Trump's election in the U.S.
Still, the two French candidates evoke concerns in slightly different ways: The anti-immigration, anti-euro Le Pen wants to take France out of the European Union and has a nationalistic agenda, while Melenchon, also hostile to EU institutions, is focused more on the redistribution of wealth.
Melenchon strikes fear in the hearts of many wealthy voters who remember the early eighties, when Mitterrand ran with Communist backing and promised to nationalize banks. He won the election on May 10, 1981. Soviet tanks never did make it to Paris, but some of France's wealthiest fled. LVMH Moet Hennessy Louis Vuitton SE's billionaire Chief Executive Officer Bernard Arnault moved to the U.S. as did Nathaniel de Rothschild. Some others moved to Switzerland.
Melenchon's Agenda
Melenchon wants to limit executive pay to 20 times that of the lowest-paid employee, ban companies from paying dividends if they've laid off workers for economic reasons, impose capital controls to fight tax fraud and expand the base of those paying the existing wealth tax.
"We've invented the universal tax," Melenchon said in a speech in Dijon on Tuesday. "It's not worth fleeing. There will be tax agents even in hell."
Melenchon considers anyone earning more than 4,000 euros ($4,287) a month as "rich," and would expect them to do more to further his aims for France. He would slap a 90 percent tax on anyone who makes more than 400,000 euros a year. He plans to make inheritance tax-free below 130,000 euros per child, compared with 100,000 euros now, but tax it more for higher amounts.
"We want to make those who can afford it pay more," Manuel Bompard, his campaign chief of staff and son-in-law, said on La Chaine Parlementaire television on April 12. "There should be a cap on the accumulation of wealth in this country."
Different Europe
Melenchon's plans for France's role in Europe remain uncertain. He aims to change the status of the European Central Bank so it can lend directly to member countries. He wants to renegotiate EU treaties and scrap the bloc's budgetary and fiscal limits, something Germany and other member countries would be unlikely to agree to -- having vetoed even the most minor easing of rules.
"Melenchon's stance toward the EU is like that of a child who threatens to hold his breath until his mother does what he wants," Art Goldhammer, a researcher affiliated with Harvard University's Center for European Studies, said on his blog. "He will turn blue in the face, but eventually he will have to start breathing again, and his mother will still be standing there with her arms folded."
Melenchon also wants to backtrack on the bloc's push for the liberalization of public markets including utilities, telecoms, energy and transportation. The far-left candidate has promised to nationalize motorway companies, energy providers Electricite de France and Engie SA, but not nationalize banks like Mitterrand did.
Mitterrand's Record
Mitterrand's "110 proposals" platform clearly indicated his intentions: the nationalization of "nine industrial groups" -- which eventually happened in 1982. Companies nationalized included industrial firms such as Saint-Gobain, Suez, Pechiney, Rhone-Poulenc, and 42 banks including Worms, Rothschild and Banque de Paris et des Pays-Bas. By the end of 1983, one in four French workers was in the public sector.
It wasn't long before Mitterrand was forced to tone down his rhetoric. After his initial policies caused capital flight, a widening budget deficit, higher inflation than elsewhere in Europe, and consequently several devaluations of the franc, he changed tack in March 1983 and cut government spending, raised taxes, and froze wages. After his Socialist Party lost legislative elections in 1986, the victorious center-right parties named Jacques Chirac as prime minister and he proceeded to privatize many of the companies that Mitterrand had nationalized.
Costly Revolutionary
For now, non-millionaires are not that worried about the Melenchon phenomenon.
"Everyone will leave France? Oh come on, just the 1 percent," said Marie Monteiro, 42, a mother-of-three who lives in Paris and usually votes Socialist. "The fear of a market collapse, of a run, these are all electoral tactics to frighten voters. Melenchon's election would end injustices inflicted on the majority of the people. The Brexit vote, the rise of Melenchon or Le Pen should send a signal to those who have left the people without hope -- to the elite."
That said, ordinary French people may be underestimating the cost of a victory of one of the two populists, some observers say.
"France's borrowing costs will rise, as will its trade deficit," said Goldhammer. "Consumers will feel the pinch as the prices of imported goods, especially food and fuel, rise."
The conservative think tank Institut Montaigne says Melenchon's platform would be even more costly than that of Le Pen. The Paris-based group estimates that Melenchon's program would add 200 billion euros to the budget deficit, double what it forecasts for Le Pen.
For Bistro Volnay's Marques, who was too young to remember much about Mitterrand's victory, the doomsday scenario that may follow a Melenchon win is not in doubt.
"There's no chance that many people will be able to maintain a decent standard of living," he said. "The world of French luxury will disappear. Some of my clients are talking about making for Switzerland."
Before it's here, it's on the Bloomberg Terminal.
LEARN MORE