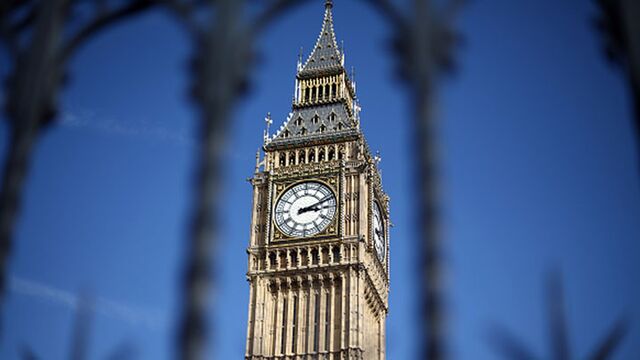 Follow @Brexit for all the latest news, and sign up to our daily Brexit Bulletin newsletter.
Prime Minister Theresa May's call for a June 8 election reverses her opposition to an early vote. The last election in 2015 took place a year before the U.K. voted in a referendum to leave the European Union. As May prepares for two years of Brexit talks, her Conservative Party enjoys the widest public-opinion margin in three decades over the main opposition Labour Party. That gives her a chance to cement her position and widen her majority.
Facebook Live: We answered your questions about the snap election
1. Why is May calling an election now? 
While May has consistently ruled out an early vote since becoming prime minister without an election last year, her majority of just 17 lawmakers in the House of Commons makes her position in Parliament precarious. As things stand, just a few fellow Conservative "Tories," be they "Brexiteers" or ardent "remainers," could tie her hands. With her popularity on the rise and the economy performing better than expected, some polls put the Tories 20 points clear of a divided Labour. An early election could swell the ranks of Conservative lawmakers who have May's back before the economic data sours.
2. What does this mean for Brexit? 
If May consolidates her majority, she will have a strong personal mandate to push through her own brand of Brexit. So far, she has a pushed for a hard exit, which would take Britain out of the EU's single market and customs union and give it control over immigration and freedom from the jurisdiction of the European Court of Justice. But Brexit will require compromise and a big win would give her the flexibility to make important concessions without worrying about her support from all wings of the party.
3. What will be the main issues in the election?
Brexit, Brexit and more Brexit, if May has her way. Labour will argue that Conservative rule is creating a more-unequal society and eroding the National Health Service. But May's domestic agenda, promising to "build a country that works for all," may blunt that line of attack. The Liberal Democrats will campaign as the only major party that opposes leaving the bloc.
4. What's the state of the opposition?
Labour is in disarray. Party Leader Jeremy Corbyn fended off an attempted coup in 2016, less than a year into his tenure. While his far-left brand of politics may appeal to the party membership, there's scant evidence that it appeals to the wider public. The Liberal Democrats, reduced to a rump of just eight lawmakers in 2015 after five years governing in coalition with May's Conservatives, will relish a new vote as a chance to claw back more seats, having gained one in a special election in 2016. They see their pro-EU stance as a chance to win over the 48 percent of the country who voted against Brexit. In anti-Brexit Scotland, where the pro-EU Scottish National Party all but wiped out the previously dominant Labour Party in 2015, there's more evidence of a Tory revival than a Labour one.
5. What does this mean for Scotland?
Just as the early election gives May a chance to solidify her standing, it does likewise for First Minister Nicola Sturgeon. If the SNP retains its dominance -- it took all but three Scottish seats in 2015 -- Sturgeon will be validated in seeking a second referendum on Scottish independence from the U.K. Though Scotland rejected independence in a 2014 referendum, that was before Brexit. A majority of Scottish voters chose "Remain" in the June 2016 Brexit referendum, and now face being pulled out of the EU against their will.
6. Can May demand a snap election on her own?
No. Prime ministers used to be able to call a general election whenever they liked within the five-year electoral cycle. That changed in 2011, when the Tory-Lib Dem coalition pushed through the Fixed-Term Parliaments Act. Now, to force an early election, the government needs a two-thirds majority vote in the lower chamber of Parliament, the House of Commons. May has called such a vote for Wednesday, and with Labour welcoming a general election, she should win.
7. What does this mean for markets?
The pound jumped to its highest in more than 2 months after May made her announcement. While elections typically signal a period of uncertainty for the markets, a strengthened mandate for May in the longer term is likely to bring more stability than her current slender majority, because she'll be less beholden to various interest groups when pushing through her Brexit strategy.
The Reference Shelf
— With assistance by Tim Ross
Before it's here, it's on the Bloomberg Terminal.
LEARN MORE