Home Prices in 'Drum-Tight' Toronto Surge by Most on Record
By and
Report comes hours before officials meet to discuss next steps

Real-estate values in Canada's biggest city jumped 29% on year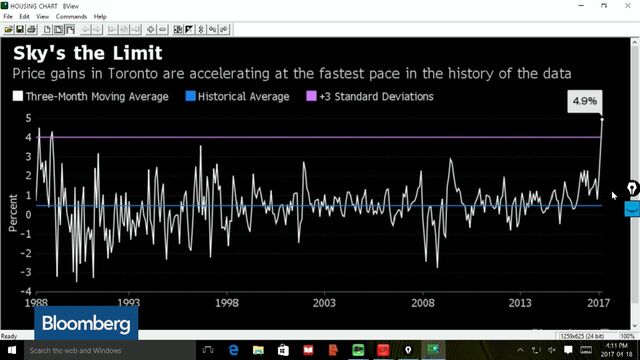 Toronto's home prices capped a record quarter of gains in March amid concern the market is in a bubble.
Prices in the nation's biggest city increased 6.2 percent last month from February, according to a benchmark price index released Tuesday by the Canadian Real Estate Association. The gain is the biggest in records dating from 2000. Actual price gains averaged almost 5 percent in the quarter, the largest three-month increase in records dating from 1988.
The figures come hours before officials including Canadian Finance Minister Bill Morneau, Ontario Finance Minister Charles Sousa and Toronto Mayor John Tory meet to discuss surging sales and prices that some economists describe as a bubble. Bank of Canada Governor Stephen Poloz also warned last week that Toronto's price gains aren't sustainable and appear to be driven more and more by speculation.
Toronto is the last major Canadian city with such characteristics. Demand in Vancouver slowed after a new provincial tax on foreign buyers and tighter federal mortgage rules were introduced last year. The Globe and Mail newspaper, citing a senior government official, reported Tuesday that Ontario is looking "intently" at a new tax on non-resident speculators.
"This housing market needs a bucket of water thrown on it and soon," Doug Porter, chief economist at BMO Capital Markets, said in an interview. Ontario and Toronto officials should now take the lead, perhaps by mirroring the moves taken to slow Vancouver's market, he said.

On a yearly basis, benchmark Toronto home prices increased 29 percent. Nationally, they rose 4 percent on the month and 19 percent on the year.
"The drum-tight housing market balance in Toronto and nearby cities stands in contrast to housing market trends elsewhere in Ontario and other provinces," CREA chief economist Gregory Klump said in the report.
There is only enough inventory of homes to last one month or less in the Greater Toronto Area and surrounding cities like Hamilton and Oakville, helping reduce the nationwide stockpile to the lowest in almost a decade at 4.1 months. The pressures of buyers moving further out to find a house were shown by the 33 percent price gain in Oakville-Milton, the CREA said.
Toronto sales rose 0.4 percent on the month in March and by 17 percent from a year ago. Nationwide, they climbed 1.1 percent on the month and 6.6 percent on the year.