markets
Slovaks Throng Capital to Join Public Protests in Eastern EU
By
Thousands of people march against corruption in Bratislava

Protesters call for interior minister, police officials to go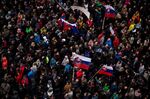 Slovaks protested against corruption in one of the largest demonstrations in the country this decade, an echo of intensifying unrest across the European Union's eastern wing over backsliding on rule of law.
Thousands of people gathered in the main square in the capital, Bratislava, demanding Interior Minister Robert Kalinak, top police officials and the head of the state anti-graft unit be replaced for doing too little to fight corruption. While the high-school students who organized the Tuesday's rally have tried to distance themselves from politics, the motion calls to mind the 1989 student protests that brought down the communist rule in then Czechoslovakia.
The EU's former communist countries have made headway in catching up with their richer western peers in terms of living standards, but a sense of frustration is mounting over the way their governments rule. The protests follow rallies in Slovakia's southern neighbor Hungary, where people opposed a crackdown by Viktor Orban's government on Central European University. In Romania, a plan to decriminalize corruption brought 600,000 people on the streets, while Polish protesters in Warsaw blocked parliament in January over questions of media freedom.
"Rising living standards and falling unemployment is no longer enough," said Grigorij Meseznikov, the director of the Bratislava-based Institute for Public Affairs. "They want a better society where the rule of law is respected. These are protests against governments that are not viewed good any more."
Slovakia ranks 54th in the world in Transparency International's corruption-perception index, the worst among the EU's eastern members after Hungary, Romania and Bulgaria. While Prime Minister Robert Fico has prioritized the fight against corruption, the fact that his administration hasn't convicted anyone in a high-profile case undermines his pledge, according to Meseznikov. The state newswire TASR reported about five thousand people attended the rally on Tuesday, citing an estimate by the municipal police.
Fico, who began his third term a year ago, survived a no-confidence in parliament in September, which followed a series protests organized by opposition parties who alleged his administration was covering up corruption. The government has since adopted new legislation seeking to boost transparency in public procurement.
Before it's here, it's on the Bloomberg Terminal.
LEARN MORE