George Calls for Fed's Balance Sheet to Shrink on 'Autopilot'
By and
Kansas City Fed leader urges 'gradual and smooth' reductions

FOMC shouldn't review balance sheet each meeting, George says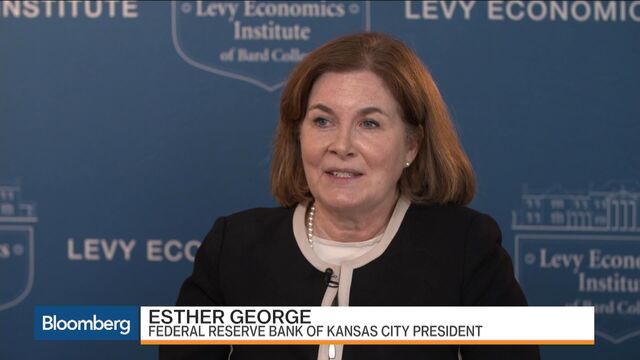 Federal Reserve Bank of Kansas City President Esther George urged the Federal Open Market Committee to start shrinking its $4.5 trillion balance sheet this year, making reductions automatic and not subject to a quick reversal.
"Balance sheet adjustments will need to be gradual and smooth, which is an approach that carries the least risk in terms of a strategy to normalize its size," George said at the Levy Economics Institute of Bard College in New York. "Importantly, once the process begins, it should continue without reconsideration at each subsequent FOMC meeting. In other words, the process should be on autopilot and not necessarily vary with moderate movements in the economic data."
The FOMC is considering shrinking its assets of U.S. Treasury securities and mortgage-backed securities later this year, according to minutes of the Fed's March meeting. The Fed's balance sheet was enlarged by three rounds of so-called quantitative easing, intended to lower long-term rates and stimulate growth.
George also called for the FOMC to continue to raise interest rates with the U.S. economy seeming to be near the Fed's goals of full employment and 2 percent inflation. While economic data fluctuate, the Fed should resist the temptation to react to near-term volatility, she said.
'Solid Footing'
"For the most part, the economy looks to be on solid footing," George said, adding that many on the FOMC see risks tilted to the upside. "There is a sense that outcomes could actually be better than expected, rather than worse."
The FOMC increased its target interest rate on March 15 and said it would continue to tighten policy at a gradual pace, with policy makers forecasting two more quarter-point rate increases this year. Prices of federal funds futures contracts indicate investors see less than even odds the Fed will hike when officials meet June 13-14.
"Overall, I am encouraged by the start of the normalization process and want to see it continue," George said. "While both the inflation rate and the unemployment rate are in range to meet the FOMC's objectives, the federal funds rate is far from its longer-run level and the balance sheet remains large with reinvestment of maturing securities."
"Continuing along the path of normalization even in the face of uncertainty is necessary to achieving long-run objectives for the economy, including price stability and full employment on a sustained basis," she said.
George, a former bank regulator, has consistently been among the most hawkish Fed official. George became chief of the Kansas City Fed in 2011 and was previously the district bank's No. 2 official under Thomas Hoenig, now vice chairman of the Federal Deposit Insurance Corp. She joined the Kansas City Fed in 1982 and spent much of her career in bank supervision.
Before it's here, it's on the Bloomberg Terminal.
LEARN MORE