Déjà Vu as France's CAC Harks Back to FTSE 100 Before Big Vote
By and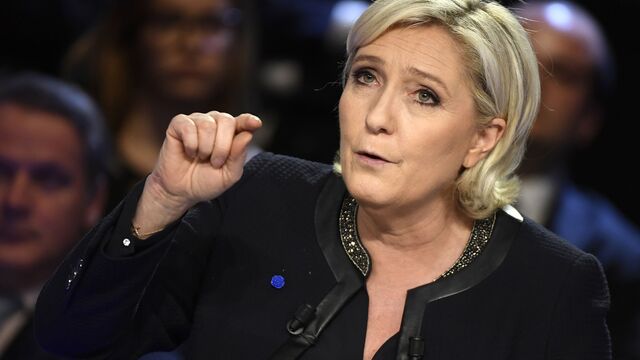 Want to use the CAC 40 Index to hedge French election risk? Best remember les Anglais first.
The French index's biggest names including LVMH, L'Oreal SA, Sanofi and Airbus SE have little exposure to the country's economy, and a drop in the euro could favor it just as the plunging pound sent the megacap-heavy FTSE 100 Index soaring to a record in the months following the Brexit vote.
The prospect of a populist victory in the French presidential election has kept investors on edge before Sunday's first-round vote, pushing the cost of protecting against declines in European stocks to its highest level since the U.K. referendum last June. Still, the allure of companies with exposure to the global economy has spurred fund flows into the region. The CAC 40 earlier this month reached its highest level since August 2015, before losing some ground.

Members of the CAC 40 on average get only about a quarter of their sales from France, data compiled by Bloomberg show. Companies including LVMH, Danone, Michelin & Cie., Sanofi, L'Oreal and Airbus get less than a tenth of their revenue from the country.
"Look at what happened in the U.K. after the initial selloff. Shares in global companies rallied as the pound dropped," Arnaud de Langautier, who helps manage 950 million euros ($1 billion) at Paris-based group Amplegest, said by phone. "If an anti-euro candidate gets elected, of course we would see selling pressure at first, especially from foreign investors. But when you look at the fundamentals of a company like LVMH, which has a very, very low exposure to France, why would you sell?"

Since the Brexit referendum, the pound has fallen about 14 percent against the dollar, while the FTSE 100 is 13 percent above levels seen right before the vote.
Some large-cap firms in France are seen as less immune than others. Banks in particular could suffer in the event of a win for a populist candidate. Their holdings of the country's debt makes lenders vulnerable to political instability, de Langautier said. France represents roughly half of sales for both Credit Agricole SA and Societe Generale SA.
European banking stocks were the biggest underperformers at the peak of the euro-area sovereign debt crisis in 2012, amid worries that some countries would default.

Companies with a significant sales to the U.S. and emerging markets, including luxury goods makers such as LVMH, food giant Danone and drugmaker Sanofi, outperformed the region's equity benchmark in the period.
— With assistance by Justina Lee
Before it's here, it's on the Bloomberg Terminal.
LEARN MORE