markets
Turkey Spending Before Referendum Sent March Deficit Soaring
By and
Turkey's Budget Deficit is Biggest Since at Least 2006

Turkey unemployment figure rises to highest level since 2010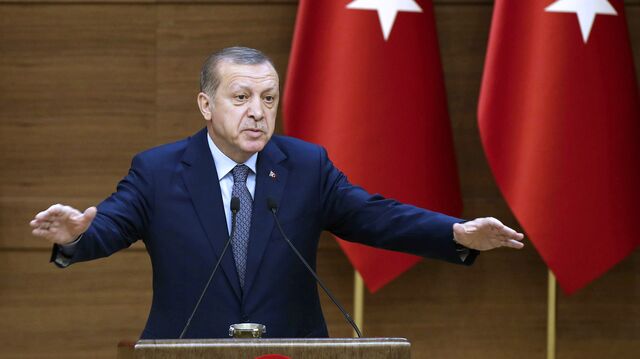 Turkey reported more troubling economic data a day after voters narrowly gave President Recep Tayyip Erdogan substantial new powers, with the latest budget deficit and unemployment figures worse than they've been in years.
The Finance Ministry on Monday posted its biggest budget deficit for the month of March since at least 2006, according to data compiled by Bloomberg, while joblessness in January rose to the highest level in seven years.
The deficit reached 19.5 billion liras ($5.3 billion), almost three times the shortfall a year earlier, the ministry said. General unemployment rose to 13 percent, the highest since February 2010. Youth joblessness surged to 24.5 percent in January, Turkey's state statistics institute said in a labor report, remaining at the highest levels since March 2009 when the impact of the global financial crisis was at its peak.
The budget and jobless figures reflected both the economic fallout from last year's failed coup and increased government spending ahead of Sunday's referendum, which concentrated executive powers in Erdogan's office. Deputy Prime Minister Mehmet Simsek said in an interview Monday that with the vote behind it, the government will focus on restoring political stability and kick-starting growth.
For more on Sunday's referendum, read: Erdogan Follows Slim Referendum Win by Warning Opponents
The government had increased spending and rolled out tax breaks and other incentives to spur growth ahead of the referendum. Below are highlights of the budget and unemployment reports:
Budget
Central government budget gap was 19.5 billion liras in March, compared with a deficit of 6.6 billion liras a year earlier
Deficit excluding interest payments was 12.4 billion liras, compared with a surplus of 160 million liras in March 2016
Budget expenditures rose 25 percent from a year earlier to 58.6 billion liras 
Revenue shrank by 3 percent to 39.1 billion liras. March revenue accounted for 6.5 percent of the total budgeted for the year, compared with 7.3 percent in 2016
Value-added tax collected domestically -- a key gauge of consumption -- shrank 33.1 percent to 1.8 billion liras
Unemployment
General unemployment rose to 13 percent from 12.7 percent in December and 11.1 percent in January 2016


January youth jobless rate was 24.5 percent, compared with 24 percent in December and 19.2 percent a year earlier

Participation in the labor force was 51.5 percent, compared with 51.6 in December and 50.7 percent a year earlier
The non-agricultural unemployment rate was 15.3 percent, compared with 14.9 percent in December and 13 percent a year earlier
Before it's here, it's on the Bloomberg Terminal.
LEARN MORE