Arconic CEO Exits After 'Poor Judgment'
By and
Hedge fund says CEO threatened a senior officer in letter

Former Pratt & Whitney president to take over as interim chief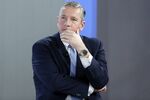 Elliott Management Corp. vowed to continue a fight to replace Arconic Inc. board members even after the main target of its dissatisfaction, Chief Executive Officer Klaus Kleinfeld, stepped down.
Shareholders can't trust the board and should support Elliott's slate of dissident directors in a vote next month, the New York hedge fund controlled by billionaire Paul Singer said in a statement Monday. The CEO exited the aluminum-parts maker after the board said he showed "poor judgment" in sending a letter to Elliott amid a proxy fight -- a departure that the hedge fund called "long overdue" in its statement.
"The letter read as a threat to intimidate or extort a senior officer of Elliott Management based on completely false insinuations, a threat that we took seriously and about which we immediately and privately informed the board," Elliott said. "We intend to pursue our campaign for fundamental board-level change as vigorously as ever."
Until Monday, Arconic's board had stuck by Kleinfeld as Elliott accused him of financial underperformance, an "obsession" with image, and wasteful spending on a Manhattan headquarters. For Kleinfeld, a member of President Donald Trump's manufacturing council, today's departure is the second time he has left a company under a cloud. In 2007, he stepped down as CEO of Siemens AG as the company worked to recover from a bribery scandal.
"It looks like the incident cited was the straw that broke the camel's back," said Justin Bergner, an analyst at Gabelli & Co. "Most investors probably thought that it was time for Klaus to begin to think about handing over the reins."
Unauthorized Letter
Arconic rose 2.6 percent to $26.57 at 3:37 p.m. in New York after advancing as much as 9.8 percent for the biggest intraday gain since Feb. 1. That was the day after Elliott announced its campaign against Kleinfeld.
David Hess, a board member and former president of United Technologies Corp.'s Pratt & Whitney jet engines unit, was appointed interim CEO, Arconic said in a statement Monday. Hess joined the board on March 10. Lead director Patricia Russo will take over as interim board chair.
"Mr. Kleinfeld stepped down as Chair and CEO by mutual agreement after the Board learned that, without consultation with or authorization by the board, he had sent a letter directly to a senior officer of Elliott Management that the Board determined showed poor judgment," Arconic said in the statement.
While Arconic didn't disclose the contents of the letter, it stressed that its decision to let Kleinfeld go wasn't made in response to the proxy fight or Elliott's criticisms of the company's strategy, leadership or performance.
Elliott since late January has sought to oust Kleinfeld, 59, and replace four directors at Arconic's May 16 annual meeting. It has suggested Larry Lawson, former CEO of Spirit AeroSystems Holdings Inc., as a potential new chief. The fund says it owns 13.2 percent of the parts maker.
Elliott Ally
First Pacific Advisors Inc., Arconic's fourth-largest shareholder with a 4.7 percent stake, said all long-serving directors should be removed.
"We don't have confidence in this board's ability to choose the next management or act as stewards for the business," Brian Selmo, a First Pacific partner, said by telephone. "We hope to see the Elliott nominees elected and Larry Lawson appointed CEO."
Arconic was created last year when former parent Alcoa spun off its jet- and auto-parts operations into the new company. Since then, Elliott has been reducing its stake in the new Alcoa Corp. while expanding its holdings in Arconic, according to data compiled by Bloomberg.
Arconic had previously defended Kleinfeld by pointing to his track record of diversifying the old Alcoa and undertaking last year's separation into two companies. Arconic had said the Elliott campaign was more about asserting influence than bettering governance.
Arconic Proposals
Still, the manufacturer has proposed board and by-law changes, saying it will seek approval to make all directors subject to annual elections, eliminate a super-majority vote and give eligible shareholders a proxy access mechanism to nominate candidates. It also plans to lower gross debt by $1 billion this year, increase its return on assets and swing from negative to positive free cash flow, according to a presentation in February.
Arconic last week said the company could face a potential $500 million liability should shareholders back Elliott's four dissident directors under a change of control provision within a 2007 employee retirement trust. Elliott last week called it a "poison put designed to entrench management" that could have been eliminated.
Last month, the company faced a governance dispute over a vote deal with shareholder Oak Hill Capital Management, which owns 2 percent of Arconic. Arconic ultimately waived a requirement that the private equity firm back it at the upcoming annual meeting. That change followed a call by Elliott for a probe into a settlement, related to Oak Hill's 2014 acquisition of Firth Rixson Ltd., that Oak Hill would vote its shares in support of the company.
Compensation Impact
By electing to resign, Kleinfeld might have lost out on $11.2 million in severance and other benefits he'd be entitled to if the board had let him go without cause, according to a regulatory filing. The filing didn't specify how a voluntary exit would affect the ex-CEO's unvested equity awards, worth about $19.6 million as of Dec. 31.
Arconic had $12.4 billion in revenue last year and counts Airbus SE and Boeing Co. as its biggest customers. Arconic in turn is the biggest buyer of Alcoa's metals, accounting for about 10 percent of Alcoa sales, according to data compiled by Bloomberg.
Kleinfeld attended the first meeting of Trump's manufacturing council at the White House in January and missed the second.
At Siemens, Kleinfeld resigned after less than three years as CEO after a probe into whether some employees used slush funds to bribe customers. Siemens was forced to review more than 420 million euros of payments, and Chairman Heinrich von Pierer resigned. That would be valued at $447 million at current exchange rates.
— With assistance by Beth Jinks, and Anders Melin
Before it's here, it's on the Bloomberg Terminal.
LEARN MORE