business
'Fate of the Furious' Reveals That China Is Where the Action Is
By
Outruns 'The Mermaid' as fastest film to reap 1 billion yuan

Car-chase franchise film missed estimates for North America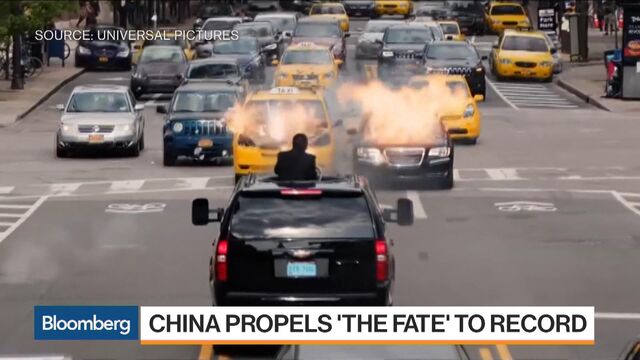 "The Fate of the Furious" claimed a record global box-office debut even after an underwhelming opening in North America. Vin Diesel & Co. can thank China for the extra boost of nitrous.
Universal Pictures' eighth installment of the car-chase franchise, starring Diesel, Dwayne Johnson and Charlize Theron, fetched the highest ever three-day opening weekend in China, grossing $192.1 million, according to the studio. That was almost double its debut in the U.S. and Canada, where the movie fell short of estimates.
Worldwide, the film garnered $532 million in worldwide sales, which would be just enough to beat the international release of "Star Wars: The Force Awakens" in 2015. Universal already has two more installments of the series in the works.

Chinese filmgoers are devouring action movies, allowing studios to keep churning out explosion-filled blockbusters without worrying too much about whether fatigue is setting in for U.S. audiences. American box-office disappointments such as "XXX: Return of Xander Cage" and "Resident Evil: The Final Chapter" have thrived in China, even as locally produced films have fallen flat in recent months.
China "is a safety net right now for Hollywood," said Jeff Bock, senior box office analyst at Exhibitor Relations Co. Even though domestic ticket sales for "Fate of the Furious" missed most independent forecasts, the 16-year-old franchise remains one of the most important live-action offerings from Universal, Bock said. "No way they are getting rid of this any time soon."
Even as Hollywood sets box-office records with new releases, expenses are going up too. "The Fate of the Furious" cost at least $250 million to make, not including tens of millions of dollars for marketing.
And China's market isn't as profitable as the U.S. At home, studios split ticket sales roughly evenly with theaters. In China, they only get 25 percent of sales. Government crackdowns on subsidies and box office fraud also slowed the rate of China's box office growth last year.
Still, Hollywood studios see China as the future, and the recent acceleration of the country's economic expansion will only encourage them. Gross domestic product increased 6.9 percent in the first quarter from a year earlier, posting the first back-to-back acceleration in seven years, the National Bureau of Statistics reported Monday.
One of Hollywood's bests known talent agencies, Creative Artists Group, said Monday it's setting up a joint venture with a Chinese investor, CMC Capital Partners, to further explore talent representation and endorsement opportunities in the country, the companies said Monday. CMC took a minority stake in CAA as part of the deal, according to a statement.
Studios such as Comcast Corp.'s Universal are teaming up with Chinese companies in a variety of ways, including film financing, marketing and more recently local co-productions that let them keep a bigger share of ticket revenue in China and lower movie-making costs. Movie distributor China Film Group Co. owns a 10 percent stake in "Fate," which helped Chinese box-office sales, said Paul Sweeney, an analyst at Bloomberg Intelligence.
"Fate of the Furious" broke the global weekend record set by "The Force Awakens" in part because the Star Wars film didn't premiere in China until a month after its first global release, said Paul Dergarabedian, a media analyst at ComScore. While "The Force Awakens" brought in more than double what "Fate" did domestically in its first weekend, its overseas opening was more in line with sales at home.

"Fate" passed the 1 billion yuan ($145 million) faster than any film in China. Previous record-holder "The Mermaid" took four days to reach that mark, considered the threshold for a hit film. By releasing the movie there on the same date as other countries, Universal was able to capitalize on the buzz the movie had built elsewhere in the world and helped minimize the impact digital piracy would have on results in China. The previous installment of the car-chase series, "Furious 7," debuted in China more than a week after its opening in the U.S.
In the U.S. and Canada, the $98.8 million weekend for "Fate" was a disappointment in part because the movie was the only new release. The film had been estimated to open at $118 million to $127 million in North America, according to analysts at BoxOfficePro.com and Hollywood Stock Exchange. "Furious 7" had launched with a $147 million weekend in the U.S. and Canada two years ago, still the biggest April debut on record, though that film had additional significance with audiences because it was the last of the movies to feature Paul Walker, who died in an unrelated car accident.
— With assistance by Anders Melin, and Jing Yang De Morel
(
Updates with CAA China deal announcement in ninth paragraph.
)
Before it's here, it's on the Bloomberg Terminal.
LEARN MORE