markets
'Yes' Vote Gives Lira Assets Rare Break From Political Pressure
By , , and
Win for 'yes' camp seen ending months of political wrangling

Attention turns to policy making after Erdogan triumphs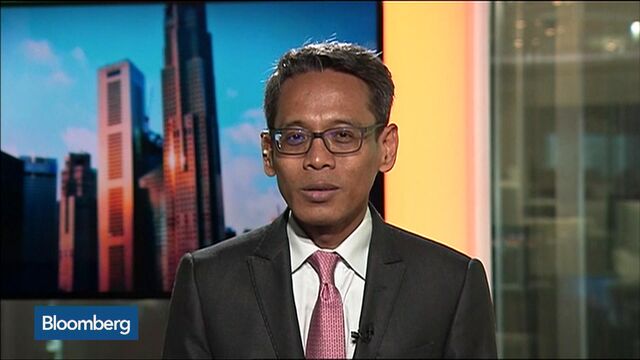 President Recep Tayyip Erdogan got what investors always feared: more control over policy making. But that won't stop them from taking advantage of some of the cheapest assets in emerging markets.
The lira soared as much as 2.5 percent and bonds jumped with stocks after Erdogan's referendum victory on Sunday, even though his win was branded unfair by critics at home and abroad. The currency pared its advance by about 1 percentage point, but its one-week implied volatility, which was the highest in the world before the vote, fell the most since January on a net basis, and its one-week implied yield was one of the steepest in emerging markets.
Ahead of the ballot, foreign ownership in Turkey's local bond markets had fallen to a five-year low.

While the 'yes' vote raises concern that Erdogan will have greater sway over economic and monetary policy, some investors say his win provides a measure of political stability in the short term. Deputy Prime Minister Mehmet Simsek said Turkey is unlikely to hold an early election to speed up the transfer of power to the president's office -- a relief for a country that has had five nationwide votes in the past three years.
"We expect a brief relief rally in Turkish assets as the huge uncertainty associated with a 'no' vote has been averted," said Commerzbank AG's Tatha Ghose, an emerging-market economist in London who sees the lira appreciating to less than 3.60 per dollar in the near term.
But "such moves are unlikely to last for long. Markets are likely to turn their focus back on Turkey's bigger political challenges -– its relation with the U.S. and Russia, the challenges at the Kurdish border, and its relations with the EU," he said.
For a roundup of analysts' reaction to the vote, read this.
The lira advanced 1.2 percent to 3.6640 per dollar as of 4:35 p.m. in Istanbul. While the gain pares the currency's loss this year to 3.8 percent, it's still the worst performance among 24 emerging-market peers. One-week implied volatility plummeted as much as 755 basis points to 17.15 percent.
The Borsa Istanbul 100 Index rose 0.8 percent as all but 11 of the gauge's 100 members advanced. The number of shares exchanged was higher than the index's 30-day average, even though markets across Europe were closed for Easter. The gauge traded at 8.6 times future earnings, compared with 12 times for the MSCI Emerging Markets Index.
More Risk
Turkey's political challenges are far from over. Kati Piri, the EU's Turkey rapporteur, said that EU accession talks would be suspended if the constitutional package voted on yesterday was approved unchanged. In his victory speech, President Erdogan promised he'd intensify a crackdown on domestic opponents.
Now that Erdogan got what he wanted, the question now is what will he "do with his new powers," Nordea Bank AB analyst Anders Svendsen wrote in an emailed note.
Before it's here, it's on the Bloomberg Terminal.
LEARN MORE