business
Zambia Opposition Demands Release of Leader Held for Treason
By and
Hakainde Hichilema charged for blocking president's motorcade

Opposition calls treason charge politically motivated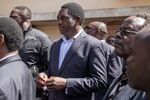 Zambia's main opposition party called for the immediate release of its leader, Hakainde Hichilema, who was charged with treason this week for failing to move off the road for the president's motorcade.
Hichilema wasn't driving the vehicle that allegedly obstructed the president and the charges are politically motivated, the United Party for National Development Vice President Geoffrey Mwamba told reporters Thursday in the capital, Lusaka. Mwamba said he's also being targeted for arrest.
"This was a pre-planned move to arrest Hakainde Hichilema," he said. "I'm also on the chopping board. They're also coming to arrest me."
The treason charge followed months of tension between the opposition and the government. Hichilema has refused to recognize the results of an election in August that he lost to President Edgar Lungu. He was last arrested in October over allegations of unlawful assembly and says he's been detained at least 16 times in the past five years.
The U.S. and the European Union, in separate statements on Thursday, expressed concern about the heightened political tension over Hichilema's detention and urged calm.
Police Inspector General Kakoma Kanganja told reporters on Wednesday that Hichilema ignored orders and obstructed a presidential motorcade in an attempt to put Lungu's life in danger.
Hichilema has been denied access to lawyers, the UPND said in a statement, calling it "a basic human and constitutional right." Police spokeswoman Esther Katongo denied the allegation in a phone interview.
"Lets remain calm," Mwamba said as UPND members gathered at the party's headquarters jeered. "Let's not fall in their trap. They want to declare a state of emergency."
(
Updates with U.S., EU calling for calm in fifth paragraph.
)
Before it's here, it's on the Bloomberg Terminal.
LEARN MORE