Russian Funds Play Vultures With Croatia's Distressed Debt
By , , and
Agrokor bonds trade at record low as company nears bankruptcy

Moscow-based UFG Wealth Management bets price will double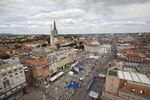 Russian investors are taking the global hunt for yield to the extreme.
Priced out of their own bond market by investors fleeing sub-zero yields in Europe, local banks and wealthy Russians are seeking out higher returns from the distressed bonds of Agrokor d.d., Croatia's biggest company.
Trading at about a third of their face value, the company's euro-denominated notes are an "interesting" proposition for speculators, according to Maxim Kuvshinov, the head of Derzhava Bank's debt instruments department in Moscow. Evgeny Pundrovskiy, who helps oversee $430 million of assets at a unit of UFG Asset Management is betting their price will double.

The Croatian conglomerate is wrestling with a debt load that's pushed it to the brink of bankruptcy and driven its bonds to a record low. With Russia's biggest bank among its creditors, the company has long been on the radar of local investors hungry for higher-yielding corporate bonds. The big foreign distressed-debt funds are "still doing their homework," according to Exotix Partners LLP.
"Agrokor is the new game in town" for Russian investors, said Aleksej Gren, a fixed-income analyst at Exotix in London, who recently switched his recommendation on the company to sell from buy. "In Russia there has been a real lack of distressed opportunities. Everything is relatively expensive."
Russian corporate hard-currency bonds trade with an average yield of 3.73 percent, within 16 basis points of a record low set on Feb. 27, according to Bank of America Merrill Lynch indexes. Sanctions imposed by the U.S. and European Union have prevented some of the biggest companies from issuing new debt since 2014, creating a dearth of supply for money managers seeking refuge from near-zero rates.
Russia Looms Over Balkan Giant's Fight to Survive: QuickTake Q&A
Derzhava Bank's Kuvshinov is betting investors won't need to take a haircut of more than 30 percent in a restructuring at Agrokor. He bought 1 million euros of the company's 2020 notes at less than 40 cents per euro, filling a third of his open-position limit.
"In a super-optimistic scenario I could imagine a price of 80 percent of face value if there's no hard restructuring," he said.
Agrokor's 2019 euro-denominated bonds sank to a low of 27.2 cents on the euro on April 10, and have since climbed for three days to 36.5.
The company, whose revenue is equivalent to about 15 percent of Croatia's gross domestic product, on Thursday signed an 80 million euro loan agreement with four local banks after rejecting a request from its biggest creditor and Russia's largest bank, Sberbank PJSC, for more favorable conditions on a recent loan. The government in Zagreb has crafted a new law that allowed it to take effective control of Agrokor by appointing its own commissioner to salvage the company and work with creditors.
Six companies, including McKinsey and KPMG, are being considered to advise on Agrokor's debt and corporate structure, Ante Ramljak, the commissioner, told reporters in Zagreb on Friday.
After buying Croatian state debt that was falling as Agrokor's debt problems mounted, Pundrovskiy from UFG purchased the bonds of Agrokor itself on rumors Russian lenders wouldn't insist on bankrupting the company and would restructure the debt.
"This is a very short-term speculative idea," he said. "We are waiting for the bonds to climb to 60 percent and we'll take profits."
Before it's here, it's on the Bloomberg Terminal.
LEARN MORE