Trump Moves Against Planned Parenthood by Signing GOP Bill
By
Bill allows states to withhold federal money over abortions

Congress used mechanism to reverse Obama-era regulation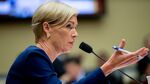 President Donald Trump signed legislation Thursday that would give states the flexibility to withhold federal family planning money from Planned Parenthood.
Trump, who has had few opportunities to enact legislation during his first three months in office, signed the measure in private, quietly reversing an Obama administration regulation. The bill overturns a rule that prohibits states from refusing to distribute federal family-planning money to clinics simply because the facilities also perform abortions.
The legislation is part of a broader effort by Republicans to cut off federal funding from health-care organizations that perform abortions, a fight that could resurface as Congress tries to avoid a government shutdown at the end of the month. 
But the measure's narrow path to Trump's desk underscores the difficulty the president could face as he targets Planned Parenthood: The bill passed the Senate only after Vice President Mike Pence cast a tie-breaking vote, as two Republican senators opposed efforts to cut the organization's funding.
"This is an important step the administration is taking," Seema Verma, administrator of the Centers for Medicare and Medicaid Services, told reporters Thursday after Trump signed the bill. "We want states to be in charge of decision-making."
Various Stances
Trump has taken various positions on Planned Parenthood. He was one of few Republicans running for president last year to praise the group for the health care it provides women. At the same time, he pledged to defund the organization because it performed abortions.
In tweets after his health-care legislation stalled in Congress last month, Trump said Republican opponents of the bill had "saved" Planned Parenthood. The legislation to repeal the Affordable Care Act would have limited funding to Planned Parenthood for a year and restricted federal spending on health-care providers that perform abortions.
Republican Senator Joni Ernst of Iowa and Republican Representative Diane Black of Tennessee sponsored the legislation Trump signed Thursday, H.J. Res. 43, in part to limit funding to Planned Parenthood.
"The Obama administration's rule emboldened abortion providers like Planned Parenthood, empowered federal bureaucrats, and silenced our states in the process," Ernst said Thursday in a statement. "Today's action restores states' rights over a Washington-knows-best mentality."
The measure took advantage of a mechanism under the Congressional Review Act that allows Congress to circumvent the Senate's filibuster when overturning regulations issued at the end of the previous administration.
'Dangerous' Plan
Planned Parenthood has slammed the legislation as a dangerous plan to restrict women's access to health care.
"People are sick and tired of politicians making it even harder for them to access health care, and this bill is just the latest example," Dawn Laguens, executive vice president of Planned Parenthood, said Thursday in a statement.
Two Republican senators -- Lisa Murkowski of Alaska and Susan Collins of Maine -- joined Democrats in voting against the legislation, leading to a 50-50 tie. Pence broke the deadlock.
Planned Parenthood clinics received $20.5 million of the $252.6 million distributed under the so-called Title X Family Planning grant program in the 2014 fiscal year, according to Health and Human Services Department figures. The program provides money to county public health departments and local organizations. It supports counseling for contraception, prenatal care and other health services for low-income women. The money can't be used to provide abortions.
In January, Trump signed an executive memorandum reinstating the so-called Mexico City Policy, which prohibits U.S. funding to international family planning groups that promote or pay for abortions.
— With assistance by James Rowley, and Jennifer Epstein
Before it's here, it's on the Bloomberg Terminal.
LEARN MORE