North Korea's Nuclear Test Site Seems Ready, U.S. Institute Says
By and
Kim Jong Un may conduct country's sixth nuclear test soon

South Korea's military sees no particular sign of provocation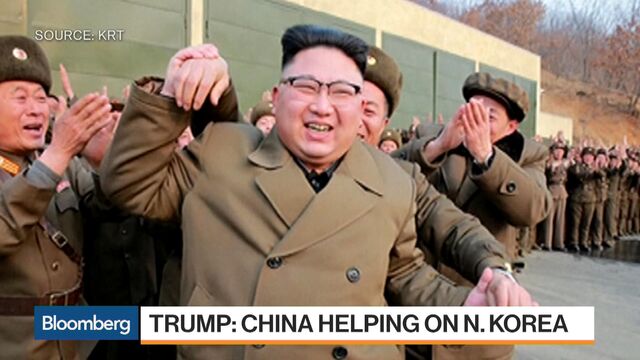 North Korea's nuclear test site appears "primed and ready" to conduct a trial, according to a U.S. research institute that monitors the country.
Commercial satellite imagery from April 12 shows activity at the Punggye-ri test site northeast of Pyongyang, analysts wrote on the 38 North website. That includes movement around the north portal and in the main administrative area, as well as some personnel around the command center, according to the website run by the U.S.-Korea Institute at Johns Hopkins University's School of Advanced International Studies.

Even so, South Korea's Joint Chiefs of Staff downplayed expectations of an imminent nuclear test, with spokesman Roh Jae-cheon telling reporters in Seoul that the military saw no particular signs that North Korea is preparing any provocative actions.
Tensions are mounting in North Asia amid expectations that North Korea may conduct its sixth nuclear test in defiance of United Nations sanctions and warnings from the Trump administration that it may take military action. Kim Jong Un's regime has test-fired a series of ballistic missiles this year to advance its nuclear program, and the U.S. has dispatched a fleet of warships toward the Korean Peninsula.
Watch Next: Trump Says He Told Xi Trade Deal Depends on N. Korea Help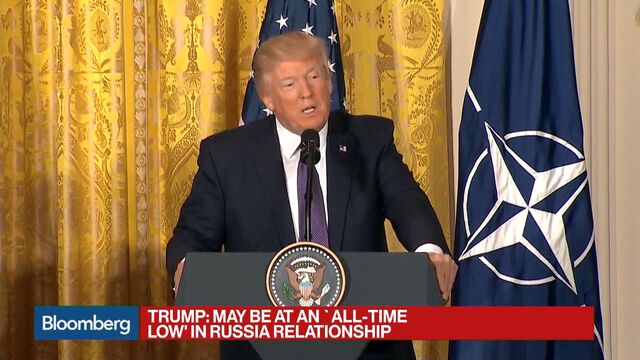 'Big' Event
Foreign journalists visiting North Korea were told on Thursday morning to prepare for a "big and important event" that turned out to be the opening of a new street attended by Kim, Reuters correspondent James Pearson tweeted. Pyongyang is hosting the reporters as it prepares to commemorate the 105th birth anniversary of its founder Kim Il Sung on Saturday -- one of several key dates in the nation's calendar that it could mark with a nuclear or missile test.
Read more on North Korea's nuclear ambitions
U.S. President Donald Trump told reporters on Wednesday that he's leaning on China's President Xi Jinping to put pressure on North Korea to back off its nuclear weapons and missile development. In an interview with the Wall Street Journal, Trump said he offered to ease trade friction with China in exchange for help dealing with North Korea. In an earlier phone call, Xi told Trump that China wants to denuclearize the Korean Peninsula peacefully.
Wu Dawei, China's special envoy for Korean peninsula affairs, will visit North Korea on Friday, the Maeil Business Newspaper reported, citing an unidentified South Korean politician. Wu has been meeting with South Korean government officials and lawmakers in Seoul since April 10.
Watch Next: Trump Says He Told Xi Trade Deal Depends on N. Korea Help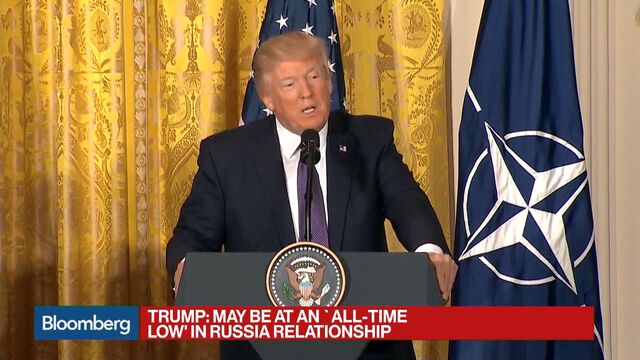 Trump has threatened to act unilaterally if China -- North Korea's main ally and benefactor -- fails to do more to curb its neighbor's activities. Kim is working on developing a long-range missile that can carry a nuclear weapon as far as the continental U.S., a program that North Korea says it needs to deter an attack.
North Korea conducted its first nuclear test in 2006. It has performed three detonations since Kim took power in late 2011, most recently in September.
Before it's here, it's on the Bloomberg Terminal.
LEARN MORE