markets
JPMorgan Beats Estimates on Strong Trading, Fatter Loan Margins
By
Net interest margin climbs 11 basis points, more than expected

Fixed-income trading revenue increases 17% to $4.22 billion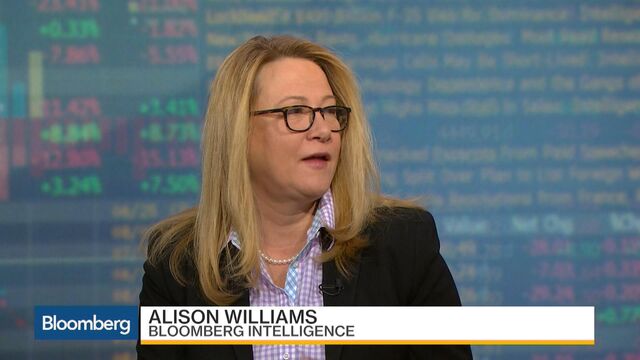 JPMorgan Chase & Co. posted first-quarter earnings that beat analysts' estimates, fueled by better-than-expected trading results and lending margins.
Markets improved in March, helping the biggest U.S. bank post a 17 percent gain in fixed-income trading revenue to $4.22 billion and a surprise increase in equity trading, which rose 2 percent to $1.61 billion, the New York-based firm said Thursday in a statement. Trading revenue rose for a fourth straight quarter, the longest streak in at least a decade.
The results, which drove JPMorgan shares higher, exceeded analysts' $4.02 billion estimate for bond trading and $1.45 billion for equities. The bond gains were fueled by rates trading linked to central bank actions, improved credit trading and upcoming elections in Europe.

Bank shares have climbed since November's U.S. election in part on expectations the Federal Reserve's interest-rate increases would buoy profits. That appears to be starting, as JPMorgan's net interest margin -- the difference between what it charges borrowers and pays depositors -- rose 11 basis points from the preceding quarter to 2.33 percentage points, the first increase in a year and the highest since the first quarter of 2013. KBW analysts predicted a jump of 4 basis points.
"With pro-growth initiatives and improving collaboration between government and business, the U.S. economy can continue to improve," Chief Executive Officer Jamie Dimon said in the statement.

The better-than-expected net interest margin is "the most important read-through to other stocks," Oppenheimer & Co.'s Chris Kotowski said in a note to clients. The Fed's last two rate increases "are having a bigger effect than the December 2015 lift did."
Companywide revenue rose 6 percent to $25.6 billion, compared with the $25.2 billion average estimate of analysts surveyed by Bloomberg. Noninterest expenses climbed 9 percent to $15 billion, more than analysts' $14.6 billion estimate.
Net income jumped 17 percent to $6.45 billion, or $1.65 a share, from $5.52 billion, or $1.35, a year earlier, according to the statement. Adjusted earnings were $1.57 a share, beating the $1.52 average estimate of 23 analysts surveyed by Bloomberg.
JPMorgan shares climbed 1.2 percent to $86.38 at 10:47 a.m. in New York and are little changed this year.
Read also: Citigroup Rides 3-Year High in Bond Trading to Earnings Beat
Earnings at JPMorgan's corporate and investment bank soared 64 percent to $3.24 billion as revenue rose 17 percent from a year earlier, outpacing a 7 percent increase in expenses. Investment-banking revenue rose 34 percent to $1.7 billion on higher debt- and equity-underwriting fees, compared with analysts' $1.61 billion estimate.
Profit from consumer and community banking fell 20 percent to $1.99 billion as the provision for credit losses rose 36 percent to $1.43 billion because of a writedown in the student-loan portfolio and higher credit-card write-offs. Revenue was $10.97 billion, down 1 percent from a year earlier.
JPMorgan has taken share from competitors in fixed income and equities trading in 2015 and 2016, Lake told analysts in a conference call Thursday.
"You can't expect us to continue to gain share at those kinds of levels," she said. "We will defend that share, but the competition is back and healthy."
— With assistance by Yalman Onaran
(
An earlier version of this story corrected analysts' trading estimates.
)
Before it's here, it's on the Bloomberg Terminal.
LEARN MORE