Citigroup Rides 3-Year High in Bond Trading to Earnings Beat
By
Costco portfolio helps boost revenue at consumer banking unit

CEO Corbat says performance 'significantly better' than 2016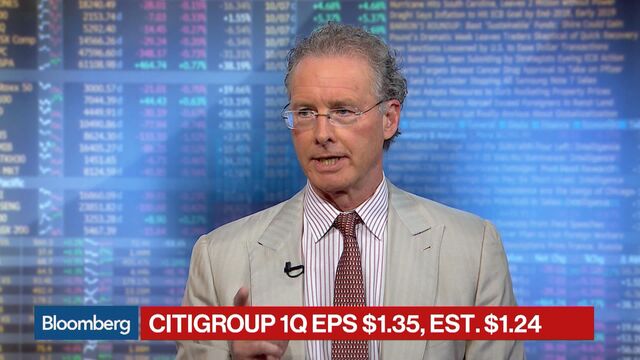 Citigroup Inc. generated the most revenue from fixed-income trading in three years, defying some analysts' concerns about a slowdown in interest rate and currency activity during the first quarter.
Revenue from bond trading jumped 19 percent from a year earlier to $3.62 billion on strength in those areas, as well as a business that handles corporate debt and bonds backed by other assets, the firm said Thursday in a statement. Analysts at Keefe, Bruyette & Woods had cited lower volatility in rates and foreign exchange as a reason for muted expectations, while Goldman Sachs Group Inc. pointed to industry commentary suggesting rates trading had cooled in the period's final weeks.

The figures show mounting strength in Citigroup's trading operations just as President Donald Trump sets out to reshape U.S. policies and the Federal Reserve embarks on interest-rate hikes. The firm controlled 19 percent of bond-trading revenue generated by the nine largest global investment banks last year, almost 3 percentage points more than in 2012, according to data compiled by Bloomberg Intelligence. And it's been investing in its equities desks. Total trading revenue climbed 17 percent from a year earlier.
"The momentum we saw across many of our businesses toward the end of last year carried into the first quarter, resulting in significantly better overall performance than a year ago," Chief Executive Officer Mike Corbat said in the statement.
Net income climbed 17 percent to $4.09 billion, or $1.35 a share. Excluding a gain on a series of asset sales, profit was $1.27 a share, beating the $1.24 average estimate of 22 analysts surveyed by Bloomberg.
The bond-trading result, outpacing analysts' projections by about $100 million, was among the surprises. Another was the provision for loan losses, which at $1.66 billion was lower than all seven estimates compiled by Bloomberg. The institutional clients group, which houses the bank's Wall Street operations, drove the improvement by releasing $230 million in unneeded loan-loss reserves as energy prices stabilized.
Analysts at Credit Suisse Group AG said they'll be watching for signs that New York-based Citigroup's trading desks can build market share and that the bank's retail division can expand organically.
Revenue Gain
Total revenue rose 3 percent to $18.1 billion, compared with the $17.7 billion average estimate of analysts. Non-interest expenses were largely flat at $10.5 billion, in line with expectations.
Net interest margin, the spread between what the bank makes on lending and pays for funding, fell 5 basis points from the fourth quarter to 2.74 percent, according to a presentation. JPMorgan Chase & Co., which reported earlier Thursday, said its margin expanded 11 basis points to 2.33 percentage points, the first increase in a year and the highest since the first quarter of 2013.
Citigroup slipped 13 cents to $58.38 in early trading at 8:41 a.m. in New York. The shares dropped 1.6 percent this year through Wednesday.
Read more: JPMorgan beats analysts' estimates
With the fewest U.S. branches of any large competitor, Citigroup is counting on its credit-card franchise to drive growth in North America. It issued more than 1 million new cards in six months last year after signing a partnership with Costco Wholesale Corp. to be the preferred lender to the warehouse club's shoppers.
Costco helped boost revenue from Citi-branded cards in North America by 13 percent in the first quarter to $2.1 billion. Costco also contributed to a 3 percent increase in operating expenses, to $2.6 billion, and an uptick in loan-loss reserves in the bank's retail operations. In all, North America consumer-banking profit fell 25 percent from a year earlier to $627 million.
Chief Financial Officer John Gerspach reassured investors last month that the Costco deal is an "unqualified success," and its ability to generate earnings will "really kick in" during this year's second half.
Revenue in the global consumer bank led by Stephen Bird, which serves more than 100 million customers in 19 countries, rose 1 percent to $7.82 billion. Net income from the segment fell 16 percent to $1 billion.
Revenue in the institutional clients group run by President Jamie Forese rose 16 percent to $9.13 billion. Net income rose 61 percent to $3 billion. Equities-trading revenue advanced 10 percent to $769 million, within a percentage point of what analysts predicted. Investment-banking revenue rose 39 percent to $1.21 billion, compared with analysts' $1.17 billion estimate.
Before it's here, it's on the Bloomberg Terminal.
LEARN MORE