Australia's Full-Time Employment Surges Most in Nearly 30 Years
By and
Unemployment holds at 5.9% as more people join labor force

Strong March jobs data follows jump in business conditions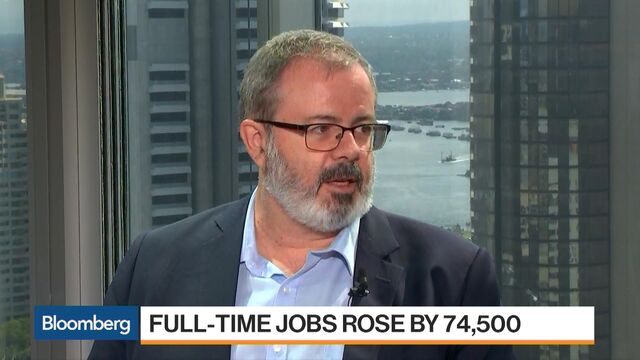 Australian employment surged in March, underpinned by the biggest gain in full-time jobs in almost 30 years, as a recovering jobs market joined a spike in business conditions to suggest a stronger economy.
Employment rose 60,900 from February; economists forecast 20,000 gain
Jobless rate held at 5.9% as economists predicted, as more people searched for work
Full-time jobs soared by 74,500, the biggest increase since December 1987; part-time employment fell 13,600
Participation rate rose to 64.8% from 64.6%; economists forecast 64.6%
Aussie dollar rose on report, buying 75.68 U.S. cents at 12:45 p.m. in Sydney, compared with 75.39 before its release
Big Picture
Signs of recovery in Australia's labor market together with the best business conditions since 2008 suggest the Reserve Bank of Australia's forecast of accelerating growth is on track. It also signals the central bank's record-low cash rate of 1.5 percent since August appears to be encouraging investment and hiring by businesses outside the resources industry.
Still, Australia's economy is split. The east coast cities of Sydney and Melbourne are investing in infrastructure, boosting jobs and experiencing population gains that have helped send house prices soaring. Elsewhere, particularly in the west and north where a mining investment boom has almost unwound, people have been leaving, unemployment has climbed and property prices have fallen.

Economist Takeaways
The surge in employment "should be taken with a pinch of salt," said Paul Dales, chief economist for Australia at Capital Economics Ltd. "The fact that it was accompanied by a 64,900 leap in the size of the labor force suggests that the rise in employment has more to do with survey sampling issues than anything else."
"It is a case of the trend is your friend. The seasonally adjusted job figures are clearly volatile," said Craig James, a senior economist at the securities unit of Commonwealth Bank of Australia. "But the trend data smooths out the bumps and shows employment rising by 16,500 in March with the jobless rate at 5.8 percent. That seems to line up better with all the other economic indicators and surveys."
"The RBA is concerned about the weak underbelly of the labor market, but today's trend pick-up in full-time hours worked and employment provide some offset," said Annette Beacher, head of Asia-Pacific research at TD Securities in Singapore. "Continued improvement in full-time employment trends is supportive for our November RBA rate hike call."
Other Details
The main job gains were in Queensland, which added 28,800 roles; New South Wales gained 23,300 and Victoria 9,800. Western Australia, where a mining investment boom is now unwinding, added 1,700 workers
Unemployment climbed to 6.5% in Western Australia from 6.1%; South Australia, a rustbelt state, recorded an increase from 6.6% to 7% -- the highest in the country; Queensland's jobless rate fell to 6.3% from 6.6%
— With assistance by Kimberley Painter
Before it's here, it's on the Bloomberg Terminal.
LEARN MORE