U.K. Nurses Mull Strike Citing Seven Years' Real-Terms Pay Cuts
By
Royal College's 270,000 members being polled over action

State-run health service 'facing unprecedented pressures'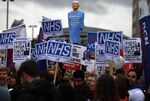 Nurses in Britain's state-run National Health Service are being polled over possible strike action in a move triggered by below-inflation pay rises.
The Royal College of Nursing said Thursday its 270,000 members have until May 7 to respond to an online survey that may be followed by an official strike ballot if there's support for action. Nurses have effectively seen a 14 percent cut in pay since 2010 as a result of government austerity policies, the union said.
"Years of real-terms pay cuts have left too many struggling to make ends meet. Nurses should not have to fund the NHS deficit from their own pay packets," RCN General Secretary Janet Davies said in an email. "Their goodwill cannot be relied on indefinitely. The government pay cap is fueling a recruitment-and-retention crisis that is as damaging for patient-care standards as it is for the nurses themselves."
Pay increases have been capped at 1 percent a year since 2015; that followed a series of public-sector salary freezes as then Prime Minister David Cameron's government sought to trim Britain's record budget deficit. Health care repeatedly appears near the top in surveys of voters' concerns and a high-profile battle over nurses' wages would be an unwelcome distraction for Theresa May, who succeeded Cameron last year, as she navigates Britain's divorce from the European Union.
Tens of thousands of jobs in the NHS are unfilled because of poor pay and patient care is suffering as a result, the RCN said. It warned ministers that nurses' views have hardened since they voted not to join other unions in taking action in 2014. Junior doctors staged strikes last year in a dispute over a new contract. The NHS is "facing unprecedented financial and operational pressures," the King's Fund health think-tank said late last year.
"The government would be wrong to dismiss this as saber-rattling. We have a duty to give nursing staff a voice and show how strongly they feel," Davies said. "If our members want to have a formal ballot on a strike, then it will be carried out without delay."
Before it's here, it's on the Bloomberg Terminal.
LEARN MORE