business
Russia Faults 'Ambiguous' U.S. Policy Before Tillerson Talks
By and
Kremlin says Putin may meet Tillerson after Lavrov talks

Trump administration says evidence decisive on chemical attack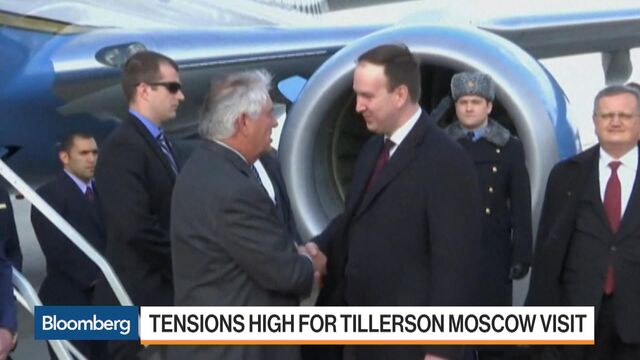 Russian Foreign Minister Sergei Lavrov began talks with U.S. Secretary of State Rex Tillerson in Moscow by criticizing the Trump administration's "ambiguous" foreign policy and pushing back against accusations the Kremlin is covering up a Syrian chemical-weapons attack.
The Kremlin said there is some "probability" that President Vladimir Putin will meet Tillerson as the top U.S. diplomat's first visit to Russia since Donald Trump's election started Wednesday.

"Over the past few months, we heard a lot of things from Washington regarding the current state and outlook for these relations," Lavrov told Tillerson. "I will be frank and say that we have a lot of questions regarding the very ambiguous and contradictory ideas on a whole range of bilateral and international issues."
The meeting comes "at an important moment in the relationship," Tillerson said in response. Their talks will "further clarify areas of sharp difference so that we can better understand why these differences exist and what prospects for narrowing those differences may be."
Putin will probably meet Tillerson if there's a need to "report to the head of state" after his talks with Lavrov, Kremlin spokesman Dmitry Peskov told reporters on a conference call.
The U.S. and its allies are trying to increase pressure on Russia to abandon its support for Syrian President Bashar al-Assad, which has been crucial in keeping the regime in power after six years of civil war. That conflict has become enmeshed with the battle against Islamic State and drawn in the U.S., Russia, Iran and Turkey, as well as multiple extremist groups and militias backed by regional powers such as Saudi Arabia. The Trump administration accused the Kremlin of trying to cover up Assad's role in a chemical-weapons attack, and Tillerson said Tuesday that Putin's government has aligned itself with an "unreliable partner" in Assad.
Chemical Attack
U.S. officials on Tuesday laid out the case against Assad over the chemical attack in the Idlib province that prompted Trump to order an airstrike with 59 cruise missiles on a Syrian airbase last week. Accusing Russia of spreading disinformation, they published a four-page document with satellite images, reports from the scene and evidence of exposure gathered from victims that the U.S. said showed "the Syrian regime conducted a chemical weapons attack, using the nerve agent sarin, against its own people."
Russia saw "some very troubling actions" in Syria by the U.S. and "we believe it fundamentally important not to let these actions happen again in the future," Lavrov said. Russia's ready for dialogue with the U.S. on an "equal footing," he said.
Russia has "absolutely reliable information" that the Idlib incident happened after Syrian SU-22 jets struck a store controlled by terrorists for manufacturing chemical weapons to be used in Syria and Iraq, Deputy Foreign Minister Sergei Ryabkov told reporters in Moscow on Wednesday. "We see, in response, efforts to promote already established conclusions of an accusatory nature which our colleagues from the U.S. and Western countries are pushing," he said.
Putin has compared accusations of Syrian chemical weapons use to the faulty intelligence used to justify the 2003 U.S. invasion of Iraq. The Russian Foreign Ministry also blasted the U.S. for relying on "staged photos of events on the ground" in justifying the strike on Syria.
"Syria and Russia provide a common enemy, a very good platform for consolidation" between the U.S. and its Western allies, Putin said at a Kremlin press conference with Italian President Sergio Mattarella on Tuesday. "We're ready to be patient. We hope only that this will end up on some kind of a positive trend."
(
Updates with Kremlin comment in second, fifth paragraphs.
)
Before it's here, it's on the Bloomberg Terminal.
LEARN MORE