Fashion
Stores Play Hide and Seek With Ivanka's Products
Retailers caught in the political crossfire try to make everyone happy.
By and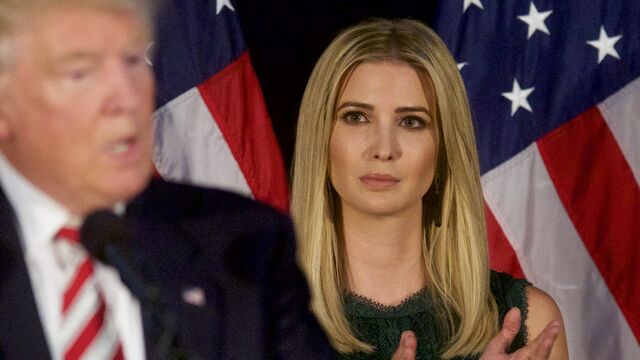 Bed Bath & Beyond used to sell Ivanka Trump's diaper bags in various prints on its vast online store. Suddenly, in March, the listings disappeared. A customer service representative said at the time that the retailer no longer sold the first daughter's merchandise.
Despite it being a single, vaguely humorous product, activists who despise her father declared victory. Meanwhile, Donald Trump's supporters (and those of his daughter) lashed out. Bed Bath & Beyond decided to walk back the rep's statement, assuring shoppers that although Ivanka's wares were no longer available online, they could still be found in some stores. 

Versions of this saga have played out among other retailers that sell Trump-branded goods. When Ivanka Trump products vanished from Belk's website in February, the company told customers the decision was part of "normal" business operations and that Trump's line was available at its three flagship stores. Her products also no longer appear on the website of Burlington Coat Factory, although they're still carried in its physical stores. Same goes for Saks Off 5th and Stein Mart. 
Then there's TJ Maxx and Marshall's, both owned by TJX Cos., which sent a note to employees instructing them to take down signs bearing the Ivanka Trump name and logo, according to the New York Times. Trump wares were removed from special featured displays and mixed into the regular racks. "All Ivanka Trump signs should be discarded," the note said. Again, the company assured customers that it would continue to sell her merchandise in its stores. 
Retailers have been hitting the same refrain—that all of this is business as usual—but activists and industry observers disagree. Usually, online assortments are much larger than what's on the racks, not the other way around.
A spokesperson for Ivanka Trump's brand said it has no control over how its products are merchandised, and that rotating products from online to in-store is typical. The closely held company licenses her name to vendors that make goods, including a $100 million clothing line made by G-III Apparel Group, as well as shoes and accessories. She has transferred its assets to a trust overseen by relatives of her husband, Jared Kushner, retaining ownership of the company and receiving payouts.
Sales growth for G-III slowed for the year ended Jan. 31, according to a securities filing. Net sales grew by $17.9 million last fiscal year, a 39 percent drop from a $29.4 percent increase in the same period a year earlier. G-III's license term for the Ivanka Trump brand ends Dec. 31, 2018.
Shannon Coulter, a co-founder of Grab Your Wallet, the anti-Trump consumer movement that's spearheaded retailer boycotts, said stores are probably trying to neutralize any public-relations problems by removing her name from their websites.
Meanwhile, retailers can recover some margin by liquidating the line at physical locations. They can also point to the store presence to mollify pro-Trump groups. Hiding or downplaying the existence of Trump goods doesn't fool consumers, though, Coulter said. Grab Your Wallet continues to boycott retailers that sell Ivanka Trump's brand in any capacity, she said. 
"This attempt to play it both ways is seen by all kinds of consumers as duplicitous," said Coulter. 
Many retailers have been cagey or simply silent. None of those that removed Ivanka Trump from their websites have said whether the brand will return there, and none of those contacted by Bloomberg have said they dumped Trump over politics. A representative for Belk said it still carries Trump's brand, but declined to provide further details as to whether that means in-store, online, or both. Saks Off 5th declined to comment. Bed Bath & Beyond, TJX, Stein Mart, and Burlington didn't respond to requests for comment.

All of this began, of course, back in November when her father won the election. Ivanka Trump-brand products started disappearing from such big-name retailers as Nordstrom Inc., Neiman Marcus, and ShopStyle. Anti-Trump activists called for boycotts against anyone who sold her family's products, while Trump supporters called for boycotts of anyone who stopped selling them.
In February, Nordstrom confirmed it would stop selling her line, citing poor sales. It quickly found itself in the president's Twitter feed, where he wrote that his daughter was being treated "so unfairly." Kellyanne Conway, a White House adviser, defended the first daughter in a television appearance, delivering what she called "a free commercial." White House spokesman Sean Spicer said Conway was "counseled" for her actions (which appeared to violate a ban on executive branch employees endorsing products).
Both Ivanka Trump and Kushner now have formal roles in the Trump administration. In an attempt to distance herself from the brand, she announced earlier this year that she was handing day-to-day management to top lieutenant Abigail Klem.
Given the regular drumbeat of conflict-of-interest allegations by Trump opponents, and the pushback by some supporters, it's no surprise most stores would seek to avoid the fray. Still, says one public-relations expert, it may be best for retailers to pick a side.
"You're going to be criticized either way, so pick a team, pick a position, and stay on it," said Dorothy Crenshaw, founder of PR firm Crenshaw Communications. If a company waffles, she said, "it's bound to infuriate everyone."
(
Updates with slowing growth for company that holds the license for Ivanka Trump's clothing line in seventh paragraph.
)
Before it's here, it's on the Bloomberg Terminal.
LEARN MORE