Poloz Takes Rate Cuts Off Table on Improving Canadian Outlook
By
Central bank sees output gap closing in the first half 2018

Governor remains cautious about U.S. trade protectionism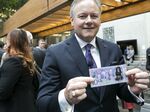 Bank of Canada Governor Stephen Poloz said a rate cut is no longer on the table amid signs of an improving economy, even as he continued to cast doubt on the sustainability of the rebound.
Canada's central bank -- which has been very cautious in recent months on its assessment of the nation's outlook -- predicted Wednesday the economy will return more quickly to full capacity, a key variable for policy makers since it's the main driver of inflation. At a press conference after holding rates steady, Poloz said the central bank has become "decidedly neutral" and didn't consider the possibility of a rate cut, as it had earlier this year.

"In this context, given the data that we've seen in the last few months, I can say quite clearly, 'No, a rate cut was not on the table at this time,'" Poloz told reporters in Ottawa. "As we've outlined pretty bluntly, given the circumstances we see, we're decidedly neutral.
For weeks, Poloz has downplayed the recent run of strong data, pointing instead to persistent slack in the economy, especially relative to the U.S., as well as emerging geopolitical risks -- a dovishness that has helped to keep the Canadian dollar in check and exporters more competitive. He even in talked openly in January about the possibility of cutting interest rates if needed.
While highlighting many of the same risks in their announcement, policy makers were forced to "acknowledge" the improvement in a statement that pointed out domestic growth has been faster than expected, with less economic slack than previously thought and a strengthening global outlook. The benchmark interest rate remains unchanged at 0.5 percent.
Still, the central bank, which also published its quarterly forecasts Wednesday, cited many reasons for caution and continued to highlight the divergence between a U.S. economy, which the bank said is in full employment, and Canada "where material slack remains." There are signs of weakness in the labor market, inflation data, exports and business investment, the central bank said. The Bank of Canada also revised down its estimates for how quickly the nation's economy can grow.
Senior Deputy Governor Carolyn Wilkins, in an opening statement to reporters, said the central bank's governing council was "very focused" on how much excess capacity remains in the economy, and has concluded there is still "material room" to grow.
Key Points
The Bank of Canada projected a quicker return to full capacity than in its last quarterly report in January. It forecast the nation's output gap will close in the first half of 2018, earlier than a January call for the return to full capacity in mid-2018. That implies at least a one-quarter faster return.
That reflects two things: a "higher profile for economic activity" and a reduction in the bank's estimate for potential growth, which was cut to 1.3 percent in 2017 from a previous estimate of 1.5 percent.
Faster-than-expected GDP growth in 2017 -- the bank increased its growth estimate for the year to 2.6 percent from 2.1 percent -- is largely due to residential investment being brought forward from future years and will largely dissipate by 2018, the central bank estimates. As a result, the central bank lowered its estimate for 2018 growth to 1.9 percent.
The amount of excess capacity in the first quarter of this year is estimated at three-quarters of a percentage point of GDP, versus 1.25 percent in the fourth quarter of 2016.

Key Rate Statement Quotes
"The Bank's Governing Council acknowledges the strength of recent data, some of which is temporary, and is mindful of the significant uncertainties weighing on the outlook."
"Accordingly, while the recent rebound in GDP is encouraging, it is too early to conclude that the economy is on a sustainable path."
"With this combination of a higher profile for economic activity and a lower profile for potential, the output gap is projected to close in the first half of 2018, a bit sooner than the Bank anticipated in January."
Market Reaction
Canada's currency extended gains after the report before erasing those gains during the press conference. It was little changed at C$1.331 against its U.S. counterpart at 12:18 p.m. Toronto time. Two-year bond yields rose 2 basis points to 0.74 percent.
Analyst Comments
CIBC World Markets Chief Economist Avery Shenfeld: "An upturn in capital spending, and some momentum in exports, will be needed for a turn to a more hawkish tone, but it will also be easier for the Bank to start talking about rate hikes after a further hike or two from the Fed, which would prevent rate hikes in Canada from lifting the Canadian dollar
materially. "
Krishen Rangasamy and Paul-Andre Pinsonnault at NBF Economics: "The Bank of Canada may be looking at the rear view mirror and ignoring what's ahead, namely a strengthening economy that's pushing up prices and threatening financial stability (read house prices). With its credibility at stake, the Bank of Canada will eventually have to ditch its dovish language over the coming months, something that would raise odds of a rate hike as early as this year."
Other Points
The Bank of Canada reiterates current stance of monetary policy is still appropriate
Subdued wage growth and "soft" gains in hours worked reflects material excess capacity in the economy.
Factors that have boosted inflation only "temporary" and inflation is seen dipping in coming months as those factors unwind. Measures of core have been "drifting" down.
The prospect of protectionist global trade policies is "the most important source of uncertainty surrounding the outlook."
Primary reason for upward revision to GDP growth in 2017 is residential investment
The central bank revised down growth projections for business investment and exports, which it says are below what could be expected "at this stage in the recovery"
Investment growth has been revised to reflect uncertainty about US trade policy, which "is now projected to persist for longer than previously assumed"
For a fourth straight statement, there was no reference to balance of risks in the actual rate announcement
Anticipates solid consumer spending in 2017, supported by elevated housing wealth. That should moderate in line with growth in disposable income and elevated debt and slowdown in housing activity
— With assistance by Luke Kawa, Erik Hertzberg, and Greg Quinn
Before it's here, it's on the Bloomberg Terminal.
LEARN MORE