China Producer Price Reflation Moderates as Commodities Cool Off
Bloomberg News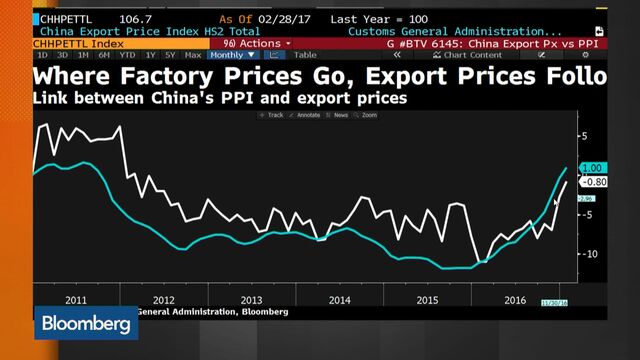 China's producer prices surged again at close to the quickest pace since 2008 last month, though pulled back slightly from February, suggesting the reflationary boon to industrial profits is set to moderate.
Key Points
Producer price index rose 7.6 percent from a year earlier, versus median estimate of 7.5 percent in Bloomberg survey and 7.8 percent increase in February
Consumer price index rose 0.9 percent in March, versus 0.8 percent gain in February, the National Bureau of Statistics said Wednesday
Big Picture
The revival in China's producer prices -- driven in part by higher commodity prices and a pick up in industrial activity -- has helped fuel the world's shift away from deflationary pressures. The rebound aided company profits while providing the government respite to rein in borrowing, tighten monetary policy, and cool a frenzy of speculation in the housing market. PPI gains are forecast to moderate in coming quarters as low year-earlier figures fall away.
Economist Takeaways
"March price data add to the impression of steady growth and moderate inflation," Bloomberg Intelligence economists Tom Orlik and Fielding Chen wrote in a report. "The PBOC's efforts to edge rates higher reflect concerns about leverage and yuan weakness. At this point, inflation remains a secondary consideration."
"It looks like there's a lot of inflation momentum at the producer level, which is good because they'll have higher profits and more money to invest," Dariusz Kowalczyk, a senior economist and strategist at Credit Agricole SA in Hong Kong, said in a Bloomberg Television interview. "It seems like PPI has peaked, it will remain fairly high in the second quarter, and begin to slide in the second half of the year when base effects are out of the way."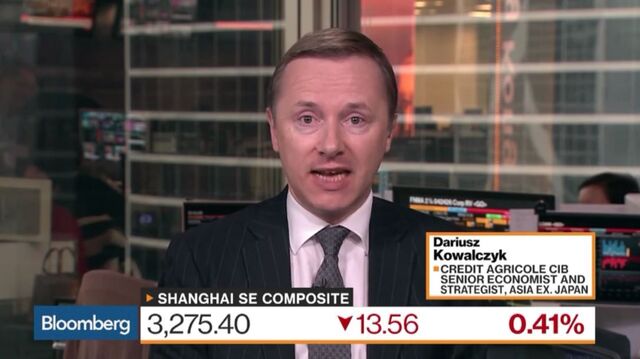 Factory inflation will peak by June and gradually ease in the second half, while consumer inflation will pick up, according to Li Wei, the China and Asia economist for Commonwealth Bank of Australia in Sydney. "Stronger industrial recovery will continue to boost confidence in the economy and investment," he said.
"Those anticipating a further reflation in China are likely to be disappointed," Julian Evans-Pritchard, a China economist at Capital Economics Ltd. in Singapore, wrote in a note. He expects producer price inflation to slow further in coming months "as base effects become less favorable and economic activity begins to cool on the back of a tighter policy stance."
"The surge in PPI inflation appears to have peaked in the near term," Grace Ng and Zhu Haibin, economists at JPMorgan Chase & Co. in Hong Kong, wrote in a report. "CPI inflation would unlikely be a major concern for monetary policy this year."

The Details
The momentum of producer price hikes in key sectors has started easing, according to a statement released on the NBS website
A relatively big decline in food prices has weighed on the consumer price index with vegetables, eggs, pork and fruits all posting declines, NBS said