Spicer Apologizes for Saying Hitler Didn't Use Chemical Weapons
By
Trump spokesman draws comparison with Assad, triggers backlash

Press secretary later apologizes in live interview on CNN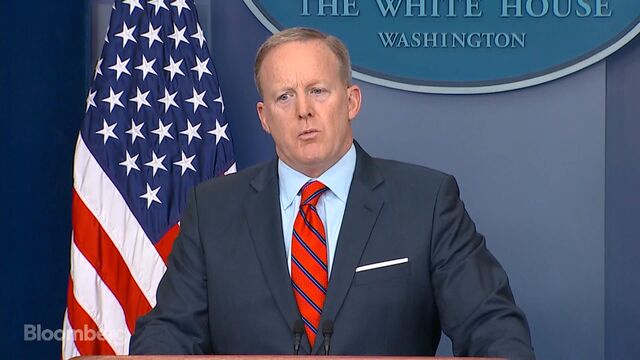 White House press secretary Sean Spicer apologized after a storm of criticism followed remarks in which he attempted to compare Syria's Bashar al-Assad to Adolf Hitler by saying that even the Nazi leader didn't "sink to using chemical weapons." 
"It was a mistake; I shouldn't have done it," Spicer said on CNN, acknowledging that host Wolf Blitzer's characterization of his remarks as a "blunder" was accurate. "My goal now and then is to stay focused on Assad and I should have, and I'll make sure to stay in my lane when I talk about that."
During his briefing for reporters earlier in the day, Spicer was asked how the U.S. might persuade Russia to stop supporting Assad's government. He responded, in part: "We didn't use chemical weapons in World War Two. We had someone as despicable as Hitler who didn't even sink to using chemical weapons."
The statement overlooked Hitler's systematic killing of Jews and others using hydrogen cyanide pesticide, known as Zyklon B, in gas chambers at concentration camps. More than 6 million Jews died during the Holocaust.
As his remarks ricocheted across social media -- on the Jewish Passover holiday -- President Donald Trump's chief spokesman was given the chance to elaborate. He only deepened the controversy.
"I think when you come to sarin gas, there was no -- he was not using the gas on his own people the same way that Assad is doing," Spicer said. When reporters interrupted to note the millions of deaths in concentration camps, where many of the victims were Germans, Spicer tried to draw a distinction between those cases and battlefield use of chemical weapons.
"There was not in the -- he brought them into the Holocaust centers and I understand that," he said.
Clean-Up Statement 
After the briefing, Spicer emailed a statement seeking to clarify his remarks.
"In no way was I trying to lessen the horrendous nature of the Holocaust," Spicer wrote. "I was trying to draw a distinction of the tactic of using airplanes to drop chemical weapons on population centers. Any attack on innocent people is reprehensible and inexcusable."
In his CNN interview, Spicer did not directly answer when Blitzer asked if viewers "could assume" Trump had told him to publicly apologize.
"You can assume that I realized that I had made a mistake and I did not want to be a distraction to the president's agenda," Spicer said. "When you make a mistake, you own it."
Other administration officials have drawn historic parallels as they denounced the use of chemical weapons by the Assad regime. Defense Secretary James Mattis, speaking later in the afternoon, said that "even in World War II, chemical weapons were not used on the battlefield."
But Spicer's bungled phrasing prompted calls for his dismissal.
'Must Be Fired'
House Minority Leader Nancy Pelosi, a Democrat from California, said in a statement that Spicer "must be fired" and that Trump "must immediately disavow his spokesman's statements."
"Either he is speaking for the president, or the president should have known better than to hire him," Pelosi said.
The Anne Frank Center, which has been critical of the Trump White House, called on Trump to fire his spokesman.
Some Jewish groups criticized the White House in January when a Holocaust Remembrance Day statement did not make explicit mention of Jewish deaths under Nazi rule. The influential Jewish newspaper The Forward published a Feb. 16 op-ed that said Trump's "silence about anti-Semitism has been deeply disturbing."
And Chelsea Clinton urged Spicer to visit the nearby U.S. Holocaust Memorial Museum.
"It's a few blocks away," she tweeted.
Trump, whose daughter Ivanka Trump converted to Judaism when she married Jared Kushner, now a senior adviser to the president, expressed frustration when asked about anti-Semitism during a February press conference.
"I am the least anti-Semitic person that you've ever seen in your entire life," he said.
— With assistance by Anthony Capaccio
Before it's here, it's on the Bloomberg Terminal.
LEARN MORE