Tillerson Asks Why U.S. Taxpayers Should Care About Ukraine
By and
Offhand remark an unexpected moment as foreign ministers meet

Top diplomat still finding footing in protocol-rich meetings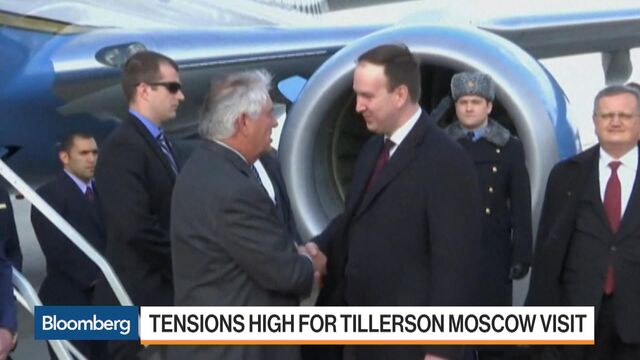 With one offhand remark, U.S. Secretary of State Rex Tillerson left European diplomats befuddled at a gathering in Italy.
"Why should U.S. taxpayers be interested in Ukraine?" Tillerson asked foreign ministers discussing Russia's intervention there at a Group of Seven gathering Tuesday in Lucca, Italy.
French Foreign Minister Jean-Marc Ayrault, who later recounted the exchange to reporters, said he responded that American taxpayers ought to want a European Union that's "strong politically, strong from a security point of view, and strong economically."
But the provocative remark suggested Tillerson, the former chief of Exxon Mobil Corp., is still finding his footing in a world of diplomacy where even passing remarks are parsed for deeper meaning.
The question was sure to give pause to any European official fearful that President Donald Trump might ease sanctions and let the former Soviet state slip back into it Russia's orbit, even as tensions with Moscow are running high.
Asked what Tillerson was driving at with his question about Ukraine, State Department spokesman R.C. Hammond responded with two words: "Rhetorical device."
In fact, Tillerson has been explicit that the U.S. and Europe shouldn't lift the sanctions imposed against Russia for its invasion of Ukraine and its annexation of its Crimea region.
"The reason the sanctions were put in place continue to exist," Tillerson said in an interview with ABC's "This Week" broadcast Sunday. "There's been no change of the status of the situation in Ukraine or Crimea. And those sanctions will remain in place until those issues are addressed."
Before it's here, it's on the Bloomberg Terminal.
LEARN MORE